For 22 years the Alliance for California Traditional Arts' (ACTA's) Apprenticeship Program has supported California's cultural traditions with 406 contracts to outstanding traditional artists and practitioners.
Now entering its 22nd cycle, ACTA's Apprenticeship Program encourages the continuity of the state's living cultural heritage by contracting exemplary mentor artists to offer intensive training and mentorship to skilled apprentices. Contracts of $3,000 are made with California-based mentor artists to cover their fees, supplies, and, if safe, their travel. Participants work closely with ACTA staff to develop and document the apprenticeships, culminating in opportunities to share results of their work with the public.
The 2022 Apprenticeship Program cohort of 42 artists (21 pairs) represents California's breadth of cultural diversity and intergenerational learning. The pairs range from mentor artists in their 90s to a 13-year old apprentice, spanning from Orange to Sacramento Counties. These apprenticeships continue thriving traditions, including those which have taken root in California, and originally hail from the American South, West Africa, Peru, Mexico, Iran, the Philippines, Korea, India, Japan, as well as Hmong expressions.
ACTA is pleased to announce the 21 statewide artist pairs contracted in the 2022 Apprenticeship Program: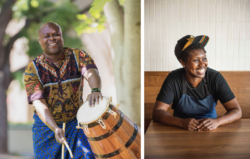 Francis Kofi Akotuah + Selasie Ama Dotse
Oakland + San Francisco
Master percussionist Francis Kofi Akotuah will be working with apprentice Selasie Ama Dotse in Ewe Akpoka Drumming.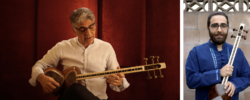 Fariborz Azizi + Siamak Bozorgi
Woodland Hills + Ventura
Musician Fariborz Azizi will be working with apprentice Siamak Bozorgi in Persian traditional music, specifically the Tar, with a focus on the Advanced Radif of Ali-Akbar Shahnazi in Segah mode.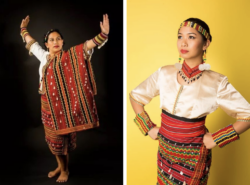 Jenny Bawer-Young + Kimberly Requesto
Castro Valley + San Francisco
Kalinga laga weaving and dance practitioner Jenny Bawer-Young (2012, 2016, 2020), will be working with apprentice Kimberly Requesto in Kalinga Music.

Nadia Ysabel Calmet + Evelyn Johana Karahalios
North Hollywood + Alhambra
During her apprenticeship with mentor Nadia Ysabel Calmet in Experiencia Afroperuana, or Traditional Afro-Peruvian Percussion and Dance, apprentice Evelyn Johana Karahalios will learn about the cultural diversity of Peru through its Afro-Peruvian artistic expressions, including cajón (large box), cajita (little box), zapateo (foot percussion), and quijada de burro (jawbone).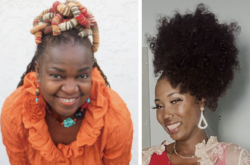 Anana Rukiya Clark + Nailah Franklin
Oakland + Oakland
A master in the Black hair tradition of African Threadwrapping, Anana Rukiya Clark will work with apprentice Nailah Franklin, developing Franklin's threadwrapping skills, techniques, and hair designs.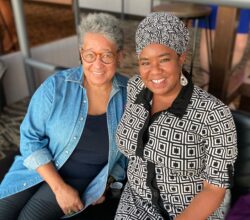 Ora Clay + Niambi Clay
Oakland
Ora Clay, a 2015 apprentice to the late quilter Marion Coleman, carries forth the tradition, now mentoring her daughter, Niambi Clay, in African American Quilting.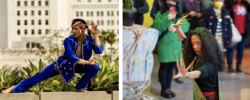 Peter Paul De Guzman + Caroline Julia Cabading
Santa Clarita + San Francisco
Peter De Guzman (2018), joins us again to work with Caroline Cabading in Philippine Pangalay dance, using the Amilbangsa Method.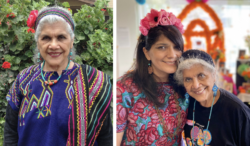 Ofelia Esparza + Denise Esparza
East Los Angeles + Monterey Park
Master Chicana altarista, Ofelia Esparza (2002, 2012), returns to mentor her daughter, Denise Esparza, in Traditional Mexican Ofrenda/Altar-making.
Divya Ramesh + Sanviti Amarnath
Sunnyvale + San Jose
Indian classical musician Divya Ramesh will be training her apprentice Sanviti Amarnath artist in the art of Carnatic Vocal Music.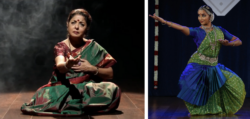 Ramya Harishankar + Visalini Sundaram
Irvine + Lake Forest
Practitioner and teacher of South Indian Bharata Natyam, Ramya Harishankar is working with apprentice Visalini Sundaram in Bharatha Natyam & Carnatic Music. Ramya will instruct Visalini in the art of narration, communication, and singing.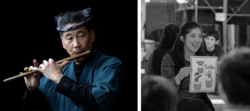 Roy Mitsuru Hirabayashi + Sydney Midori Shiroyama
San Jose + Sunnyvale
Roy Hirabayashi (2017) returns to mentor Sydney Shiroyama in Japanese Taiko, transmitting techniques for writing new taiko songs.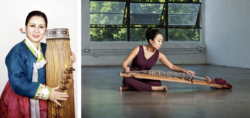 Ji Yun-Ja + Joyce Kwon
Los Angeles
Master Korean musician Ji Yun-Ja will work with Gayageum Sanjo apprentice, Joyce Kwon, on the sanjo form, which consists of a number of movements and rhythms, to enable Kwon to play all manner of traditional Korean music on the gayageum.
Eung Hwa Kim + Angela An
Los Angeles + Gardena
Master Korean dancer Eung Hwa Kim will be working with apprentice, Angela An, in Traditional Korean dance, guiding Angela in learning, practicing, and mastering an advanced-level dance, such as seung-mu and salpuri.
Youngmin Lee + Mariah Lyn Bintliff
Pleasanton + Berkeley
Textiles artist Youngmin Lee (2019), will be working this year with her new apprentice, Mariah Lynn Bintliff, in Korean Bojagi textiles.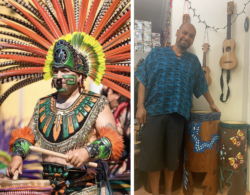 Moises Mauricio Mejia + David Gerardo Partida
Elk Grove + El Monte
Aztec drummer and dancer Moises Mauricio Mejia will be training apprentice David Gerardo Partida in Aztec peg-drum making, creating a new peg drum from scratch.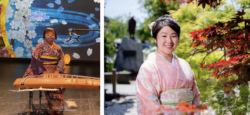 Shirley Kazuyo Muramoto + Emily Chiemi Imazumi
Oakland + San Jose
​​Shirley Kazuyo Muramoto (2014, 2016, 2019), returns to the program to work with Emily Chiemi Imazumi in Japanese Koto music.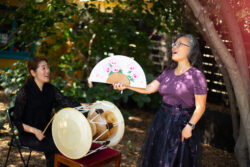 Melody HyunJeong Sim (Shim) + Juli Jiyoung Kang
Los Angeles
Melody HyunJeong Sim (Shim), former Korean dance apprentice to DaEun Jung in 2019, returns to mentor Juli Kang in Korean Pansori Music.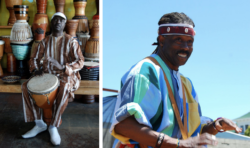 Elhadj Malik Sow + Abdullahlatif Bell Tounkara
Los Angeles + Fresno
Master percussionist Elhadj Malik Sow (2009) returns to the program to work with apprentice Abdullahlatif Bell Tounkara in Senegalese Djembe Drumming and Dance.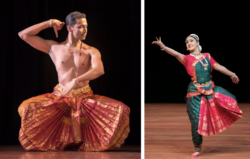 Ganesh Padubidri Vasudeva + Svara Deshmukh
San Francisco + Fremont
Apprentice Svara Deshmukh will work with mentor Ganesh Padubidri Vasudeva in Bharatanatyam, a South Indian classical dance form. Svara will learn historical, cultural, musical, and language-related knowledge about traditional dance compositions in Bharatanatyam, with attention to composers from the Karnataka region of southern India.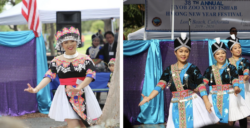 Gorlia Xiong + Summer Lee
Merced + Paramount
Gorlia Xiong, former apprentice of Wang Xiong in 2012, returns to teach Summer Lee in Hmong traditional dance.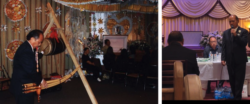 Wang Leng Xiong + Joey Xiong
Riverside
Wang Xiong (2012), returns to mentor new apprentice Joey Xiong in the Hmong tradition of Txiv Xaiv, a song-chanting, storytelling funeral ritual, through singing, studying written songs, and attending and observing funerals.
---
The Apprenticeship Program is a program of the Alliance for California Traditional Arts (ACTA), generously supported by the National Endowment for the Arts, the Walter & Elise Haas Fund, the William and Flora Hewlett Foundation, ArtPlace San Joaquin Valley, and the Maxwell/Hanrahan Foundation. Additional support provided by the California Arts Council, and the Los Angeles County Board of Supervisors through the Los Angeles County Department of Arts and Culture.