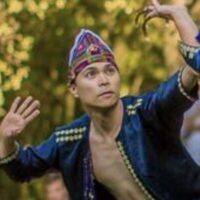 Peter Paul de Guzman
Philippine Pangalay Dance
Philippine Pangalay Dance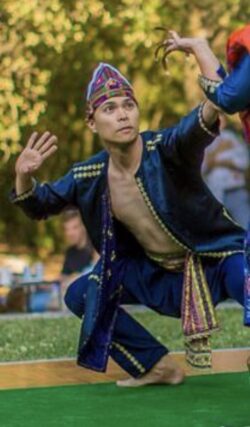 In 2005, Peter Paul de Guzman traveled to the Philippines and serendipitously met Ligaya Fernando-Amilbangsa, a respected artist, researcher, and teacher of Pangalay. She began instructing him in the fundamentals of the dance, according to her own style. In order to hone a skill which generally requires years of informal training from childhood, de Guzman devoted himself to multiple long trips to the Philippines. There, he aimed to live and breathe Pangalay, joining Amilbangsa's dance group, the Alun-Alun Dance Circle, and learning from indigenous master teachers in the Sulu Archipelago. Currently, de Guzman continues to center his training, artistic practice, and teaching around the Amilbangsa style of Pangalay.
---
Apprenticeship Program
2022
Philippine Pangalay Dance
with apprentice Caroline Julia Cabading
During this apprenticeship, de Guzman will provide comprehensive, private Pangalay instruction to Caroline Cabading using the Amilbangsa Method and culminating in a performance as part of a larger Pangalay cultural intensive. Cabading will learn movement vocabulary; Pangalay as both a solo and partner dance; improvisational individual expression; how to choreograph; and the history and cultural context of Pangalay.
2018
Philippine Pangalay Dance
with apprentice Jasmine Orpilla
Peter Deguzman will be working with his apprentice, Jasmine Orpilla, to enrich her understanding of the Amilbangsa Method of Philippine Pangalay dance.