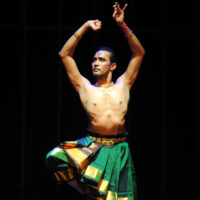 Ganesh Padubidri Vasudeva
Bharatanatyam, a South Indian Classical Dance
Bharatanatyam, a South Indian Classical Dance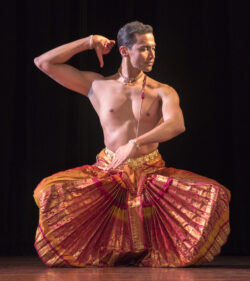 Ganesh Padubidri Vasudeva started learning Bharatanatyam in 1986 (when he was ten years old and living in India) from Guru Chandrashekhara Navada. By 2003, Vasudeva had moved to California, where he was taught and eventually, in 2009, mentored in Bharatanatyam by Guru Shreelata Suresh. Vasudeva meanwhile received guidance from Guru Bragha Bessel of Chennai, India: one of the foremost experts on abhinaya (miming/emoting with facial expressions and hand gestures). A lifelong student, Vasudeva has continued to practice Bharatantyam under the tutelage of Bessel and has also been instructed by Guru A Lakshmanaswamy and Apporva Jayaraman. For six years, Vasudeva has studied Carnatic music, the style to which Bharatantyam is danced.
Ganesh Vasudeva at Sarasa Natya Mela 2018.
---
Apprenticeship Program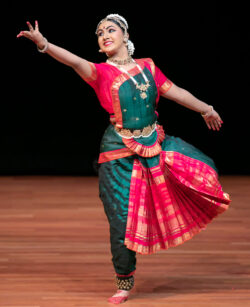 2022
Bharatanatyam, a South Indian Classical Dance
with apprentice Svara Deshmukh
During this apprenticeship, Svara Deshmukh will learn historical, cultural, musical, and language-related knowledge about traditional dance compositions in Bharatanatyam, with special attention to composers from the Karnataka region of southern India. She will also practice dancing to selected compositions by these composers, focusing on both nritta (movement) and abhinaya.