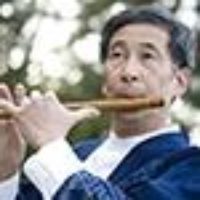 Roy Mitsuru Hirabayashi
Japanese Taiko
Taiko is the Japanese word for drum. Though the instrument itself can be traced back thousands of years, the art form of ensemble drumming, Kumidaiko, started in Japan in the 1950s and made its way to North America in the late 1960s, entering through the Japanese American communities of San Francisco, Los Angeles, and San Jose. These three communities, which contain the only remaining Japantowns in the U.S., were the birthplace of the first three kumidaiko groups: San Francisco Taiko Dojo, Kinnara of Los Angeles, and San José Taiko.
Master artist Roy Hirabayashi, along with his partner and spouse PJ Hirabayashi, co-founded the third taiko group in Northern America, San José Taiko in 1973. At this time only two taiko groups existed, San Francisco Taiko Dojo led by Seilchi Tanaka and Kinnara Taiko (Los Angeles) led by Reverend Mas Kodani, who offered to share how he was making their own taiko out of wine barrels. Hirabayashi later learned the style of Tanaka, who had studied in Japan. In 1975, Hirabayashi began studying the Japanese bamboo flute shinobue. Though it was difficult to learn about the tradition because it was not readily available,  Hirabayashi would later have the opportunity to travel to Japan and work with individual artists and ensembles such as Ondekoza and Kodo studying taiko and shinobue.
Hirabayashi is well regarded as a composer, musician, teacher, community activist, and cultural leader in San Jose and recognized at the national level. In 2011, the National Endowment for the Arts awarded Roy and PJ Hirabayashi the National Heritage Fellowship, the nation highest honor in the field of folk and traditional arts. San Jose Taiko under the guidance of the Hirabayashi emerged to be one of the most innovative taiko ensembles in field. They established an impactful negotiation between traditional form and integrating world rhythms, movement and performance that was relevant to the community in San Jose in which the ensemble resided. Both Roy and PJ have recently retired from directing San Jose Taiko leaving a legacy of taiko compositions and a unique style that has inspired generations of practitioners.
---
Apprenticeship Program
2022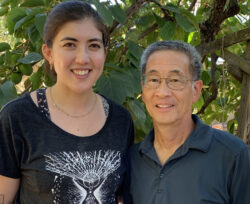 Japanese Taiko
with apprentice Sydney Midori Shiroyama
Sydney Shiroyama, who is experienced as a therapist, is hoping to make the art of taiko more accessible to individuals from marginalized communities, such as people with Down Syndrome. As part of ACTA's Apprenticeship Program in 2022, Hirabayashi will mentor Shiroyama in the techniques for writing new taiko songs that can be used when leading sessions for people with Down Syndrome and similar conditions.
2017
Japanese Taiko
with apprentice Yurika Chiba
As a master artist in ACTA's Apprenticeship Program in 2017, Roy Hirabayashi will mentor Yurika Chiba to deepen her understanding of the three non-drum instruments included in the taiko art form: shinobue, atarigane (hand-gong), and chappa (hand cymbals). They will also focus on approaches of composition and improvisation during the apprenticeship period.