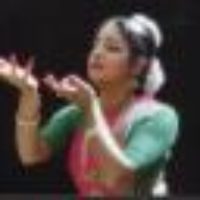 Ramya Harishankar
South Indian bharata natyam
Ramya Harishankar began studying bharata natyam when she was seven years old. She studied the traditional Vazhuvoor style, one of the original styles of bharata natyam, with the late Guru Swamimalai K. Rajaratnam and abhinaya (expressive dance) under Kalanidhi Narayanan. Today she is an internationally renowned dancer and choreographer. Since her arangetram (debut) in 1970, she has performed throughout Asia, Europe, the Middle East, Australia and North America. She founded the Arpana Dance School and the Arpana Dance Company in Orange County and continues to teach, choreograph, and perform.
Bharata natyam is a classical Indian dance form originating in the Southern Indian temple dance tradition, which combines the arts of the stage, music, poetry, costuming and rhythm. Bharata natyam is characterized by graceful movements and intricate footwork. It is an interpretive dance which uses symbolic gestures, facial expression, and body language to tell a story. The Vazhuvoor style of bharata natyam, known for its elegance, incorporates elaborate movements, deep sitting positions, a variety of positions on the floor, and subtle naturalized facial expressions.
In 2012, a travel subsidy from ACTA's Development Program allowed Ramya to attend the annual Jacob's Pillow dance festival in Becket, Massachusetts. Her attendance at the festival enabled her to strengthen her working relationship with the festival's coordinators, to explore opportunities for the future presentation of Indian dancers, and to learn first-hand about the workings of one of the largest dance festivals in the US.
As a master artist in ACTA's Apprenticeship Program in 2010, Ramya worked with apprentice Sumona Vohra. Their apprenticeship focused on individualized training to learn various pieces within the bharata natyam's classical repertoire.
In 2002, Ramya was a master artist in ACTA's Apprenticeship Program with apprentice Trisha Banerjee. During their apprenticeship, Ramya and Trisha prepared a margam, a program of seven dances presented as a full-length solo performance of two hours. Of her apprenticeship with Ramya, Trisha says, "Bharata natyam plays a tremendous role in my life. Outside school, it is where I spend all my time, putting forth hour after hour into practicing. It is the place in my life where I find the most joy and happiness!"
Select Performances
Family Festival, The Getty Center, Los Angeles, California, March 2005
Asian Arts Day, Arts Festival, Laguna Beach, California, August 2002-2004
Santa Monica Festival, Santa Monica, California, April 2004
Annual Tyagaraja Festival, Cleveland, Ohio, April 2004
Celloloid Classics, The Barclay, Irvine, California, June 2003
Accomplishments
Artist's Support Grant, Fund for Folk Culture, 2005
Outstanding Artist Award for 2002, Arts Orange County, 2003
Creativity Grant, National Endowment for the Arts, 2002
Disney Artist in ARTS TEACH Roster, Orange County Performing Arts Center, 2002
Traditional Folk Arts Grant, California Arts Council, 2001 and 2003
ACTA's Apprenticeship Program Master Artist, 2002 and 2010
Choreographer's Fellowship, National Endowment for the Arts, 1994 and 1996
Teaching Experience
Private Instructor, 250+ students, 1982-present
Artist in Residence, San Bernardino School District, 2004-2005
Visiting Faculty, Department of Dance, University of California Irvine, Winter 2004, 1999, and 1994
Assemblies in schools throughout Southern and Central California, 1989-2005
Professional Services
Mentorships
Creates commissioned work
Demonstrations
Lectures
Educational presentations to schools or community organizations
Performances
Cultural consultancies
Gallery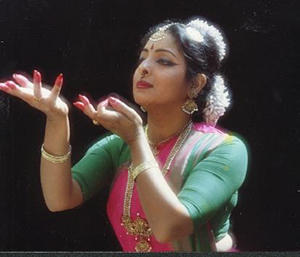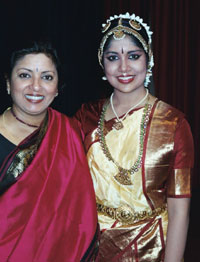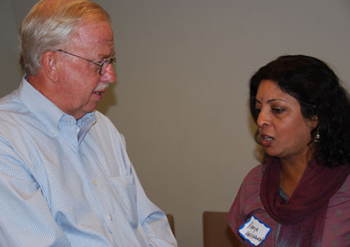 ACTA Board Member Dan Sheehy with Ramya Harishankar.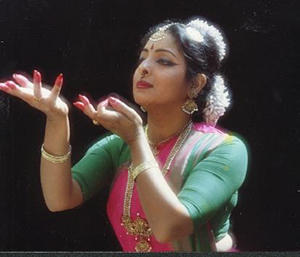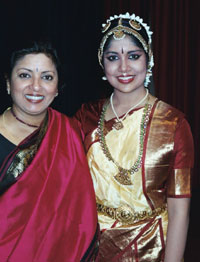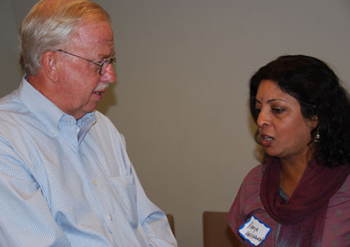 Next slide