For 20 years the Alliance for California Traditional Arts' Apprenticeship Program has supported California's cultural traditions with 364 contracts to outstanding traditional artists and practitioners.
Now entering its 20th cycle, ACTA's Apprenticeship Program encourages the continuity of the state's living cultural heritage by contracting exemplary mentor artists to offer intensive training and mentorship to qualified apprentices. Contracts of $3,000 are made with California-based mentor artists to cover their fees, supplies, and travel. Participants work closely with ACTA staff to develop and document the apprenticeships, culminating in opportunities to publicly share results of their work.
The 2020 Apprenticeship Program cohort of 32 artists (16 pairs) represents California's breadth of cultural diversity and intergenerational learning. The pairs range from mentor artists in their 70s to a 12-year old apprentice, spanning from San Diego to Contra Costa Counties. These apprenticeships continue thriving traditions, including indigenous California cultural practices like the Southern California tribal sport Waw'kish. Others celebrate traditions which have taken root in California, and originally hail from the Philippines, Laos, India, Iran, Haiti, Peru, Mexico, Cuba, Puerto Rico, West Africa, and the Andes of South America.
Master percussionist Daniel Brevil (2012) returns to the program to work with apprentice Ajayi Jackson in Haitian Vodou drumming.

Topanga + Granada Hills
Richard Bugbee (Payoomkawichum-Luiseno), previously an ACTA apprentice to Jane Dumas in traditional plant use (2009), returns this year to mentor Timothy Ornelas in the elements of Waw'kish (Field Hockey), a Southern California tribal sport.

Downey + San Fernando
Mary Alfaro will apprentice under José "Pepe" Carlos Gonzalez to deepen her practice in the requinto romántico, a soprano melodic guitar played in trío romántico music (a form of bolero music rooted in Mexico, Cuba, and Puerto Rico).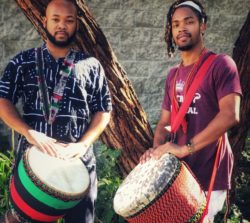 Los Angeles + Inglewood
Khalil Cummings will be working with apprentice Anthony Williams in deepening his understanding of the basic rudiments that accompany the Djembe and Dunun drum technique from the Manding tradition.
Berkeley + El Cerrito
Vocalist Adrienne Shamszad will be apprenticing with Iranian-American musician and composer Atabak Elyasi in deepening her practice in the Persian setar and other elements of Persian traditional music.
Encino + Valencia
Master percussionist Gino Gamboa will be mentoring Diana Andrea Soto Teixeira in the rhythms, repertoire, and technique of the Afro-Peruvian cajón, a box-shaped percussion instrument from Peru.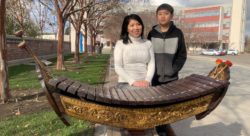 Fresno
Sherina Han-Khampraseuth will be mentoring Jacob Norasene Van in Laotian lanard (or lanat), a suspended, wooden xylophone used in Lao traditional music.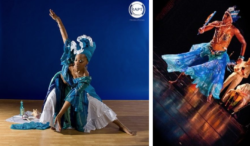 Oakland + San Francisco
Master traditional dancer Portsha Jefferson is joined by apprentice Halima Marshall in the study of Haitian Folkloric Dance rooted in the African spiritual practices of Vodou.
San Francisco + San Pablo
Rhodessa Jones will be working with apprentice Uzo Nwankpa in African and African-American storytelling, with a particular focus in autobiographic storytelling.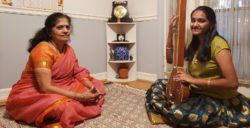 Cerritos
Shubha Narayan will work with apprentice Saadhvi Narayanan in South Indian Carnatic vocal music, with a focus in teaching compositions in different languages, melodic scales, and rhythms.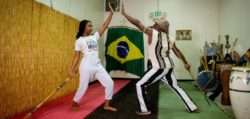 San Diego
Returning mentor artist, Dennis Newsome (2015, 2013) comes back to the program to work with apprentice Nadia Taylor in Kalenda, traditional African stick fighting.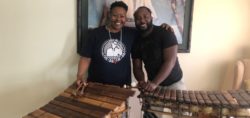 Inglewood + Long Beach
Sinaa Greene will apprentice under the mentorship of Gnenemon Solo Soro in West African Balafon (a gourd-resonated xylophone) in the Senufo tradition of the Ivory Coast.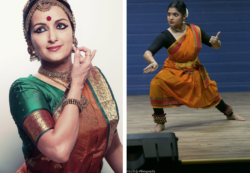 Cupertino + Fremont
Kaavya Venkataramanan will be deepening her practice in Bharatanatyam, a South Indian Classical dance, under the guidance of her mentor Vidhya Subramanian.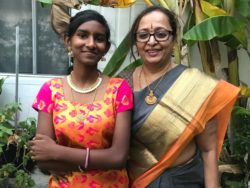 Fremont
Anuradha Suresh will be working with apprentice Nila Rajesh in further developing her repertoire and vocal technique in performing Carnatic music, a classical music of South India.
Castro Valley + Oakland
Jenny Bawer Young (2016, 2012) returns to the program to work with Teresita "Terry" Kataag Bautista in Kalinga music and chants, an indigenous music of the Kalinga province of the Philippines that traditionally accompanies Kalinga laga weaving sessions.
Richmond + Oakland
Master musician Hector Zapana will be working with apprentice Edson Veizaga in the traditional Andean pan flute known as the siku in Aymara and Quechua. Since one instrument cannot play all the notes of a scale, two siku players will use an interlocking technique to play the entire melody. 
---