Rhodessa Jones
African and African American Storytelling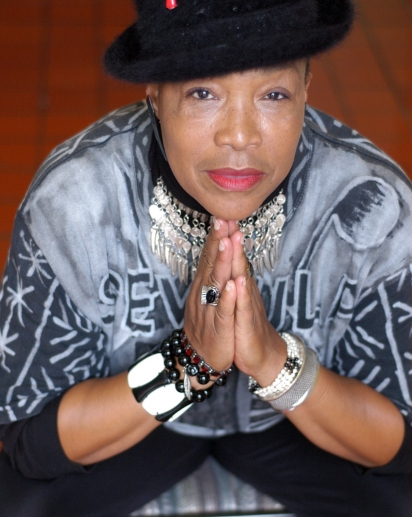 Rhodessa Jones of San Francisco is an actress, teacher, singer, and writer who is the co-artistic director of the San Francisco-based theater company Cultural Odyssey and the founding director of the Medea Project: Theater for Incarcerated Women, which brings performance workshops to incarcerated women and women living with HIV. Jones first learned the art of storytelling from her grandmother and her aunts. This has led Rhodessa into the art of autobiographical theater and stortelling to support the most vulnerable people to heal collectively.
---
Apprenticeship Program
2020
African and African American Storytelling
with apprentice Uzo Nwankpa
In 2020, Rhodessa will be working with Uzo Nwankpa, of San Pablo. Uzo is originally from Enugu, Nigeria, and is a dance and theatre artist, educator, researcher, and advocate for healing through indigenous cultures.
The goal of their apprenticeship is to deepen Uzo's practice in the skills of autobiographic storytelling. The techniques include the deepening and discovery of encouraged self expression and healing techniques through storytelling. It will also incorporate the use of physical theater, use of movement with text, use of dream diaries and performance ritual. This project will lead to a lecture and performance presentation that explores Black immigration in the 21st century and the juxtaposition of the gifts and traumas of America.