FilAm ARTS
Filipino arts and culture
The Association for the Advancement of Filipino American Arts and Culture, also known as FilAm ARTS, is a multi-disciplinary community arts organization whose mission is to advance the understanding of the arts and diverse cultural heritage of Filipinos in the United States. With three public programs — the Annual Festival of Philippine Arts & Culture, the statewide Pilipino Artists Network, and the arts education program Eskuwela Kultura — FilAm ARTS' organizational purpose is to engage diverse peoples in cultural arts as a synergistic approach to individual and community self-determination and empowerment.
In 2016, as a grantee of ACTA's Living Cultures Grants Program, FilAm ARTS received support for a collaborative project between FilAm ARTS, Malaya Filipino-American Dance Arts of Los Angeles, and Pakaraguian Kulintang Ensemble of San Diego in response to the need to facilitate knowledge-sharing and coalition-building amont traditional Filipino performance groups in Southern California. The partnership will include a series of community engagement meetings and workshops to build Philippine folk dance vocabulary, and a culminating presentation.
In 2012, 2011, 2007 and 2006, FilAm ARTS received a grant from ACTA's Living Cultures Grants Program to support traditional arts components of their annual Festival of Philippine Arts & Culture, which include performances, lectures, and workshops in dance, music, ritual pageantry, spoken word, spiritual healing arts, and other art forms.
Gallery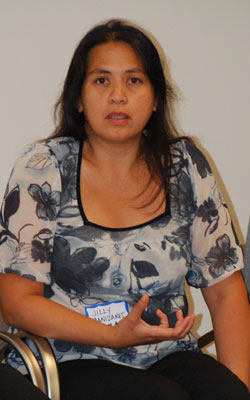 Jilly Canizares of FilArts makes a point.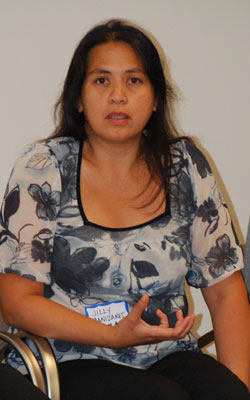 Next slide