Specifically, we are documenting examples of music and sounds reflective of community life, creating a new public collection of recordings from California that are distinctively expressive of the region's community histories and culture, and sharing research and convening dialogue through public programs in D.C. and California, as well as online. We are also working on the local level to create a portrait of a neighborhood and its people through our sound recordings. Inviting residents to contribute their songs, stories, reflections, and voices to a tapestry of the neighborhood's sonic signature is an opportunity to showcase the vitality of the neighborhood.
Today, one in four immigrants in the U.S. lives in California. The state has become one of the first states to achieve a majority of people of color.  With foreign-born residents representing more than a quarter of California's total population, Sounds of California maps an auditory journey of the music, songs, voices, and expressive sounds that contribute to a sense of belonging in diverse California communities. The themes of migration and immigration continue to define California – it is imperative that we come to understand and appreciate the different cultural communities that compose our nation. This is a historic moment – just 50 years after the passage of the Hart-Cellars Act which opened up immigration – to record, to celebrate, to reflect, and to archive these Sounds of California.
When you listen to everyone else's music and culture, you actually find the similarities that exist with all of us. Especially when you come a long distance, it's quite pleasing to find familiar sounds as you listen to other people from other cultures."
-Naomi Diouf, Diamano Coura West African Dance Company, SOC Oakland 2015
Program Contact: Amy Kitchener, Executive Director
Fresno Central Office | akitch@actaonline.org | (559) 696-2815
ACTA has hosted Sounds of California events and recording sessions up and down California since 2015, even bringing California artists to the National Mall to perform as part of the Smithsonian Folklife Festival. Read on to learn more about our Sounds of California programming.
---
With support from the California Arts Council, Cal Humanities, and the James Irvine Foundation, ACTA and the  Community Power Collective is in the midst of our Sounds of California: Boyle Heights program, a collaborative recording, composing and community engagement initiative. Sounds of California: Boyle Heights cultivates stewards of place by engaging residents of the Boyle Heights neighborhood to explore, analyze, create and share the local soundscape, focusing on themes of anti-displacement and belonging. The program includes:

Rola del Dia Original Songs
ACTA commissioned local musicians with connections to Boyle Heights to compose original songs that represent the histories and current stories of the neighborhood, throwing light on Boyle Heights' existence as the home some Japanese Americans returned to following incarceration during WWII, as the first stop for new immigrants from Mexico, as a sanctuary for mariachi musicians, and a changing landscape shaped by freeways, gentrification, and other changes. The songs debuted as part of ACTA's weekly Rola del Dia series online, which featured interviews with the musicians touching on their inspirations, aspirations, and creative process. Check out the artist interviews here!
Community Documentation by Boyle Heights Residents
Residents are engaged in capturing the sounds and voices that make Boyle Heights home, reaffirming and making visible the cultural wealth of the community. This documentation is the basis of a community-driven archive of what it means to belong in Boyle Heights at pivotal moment in history.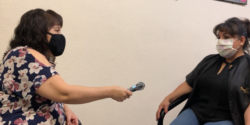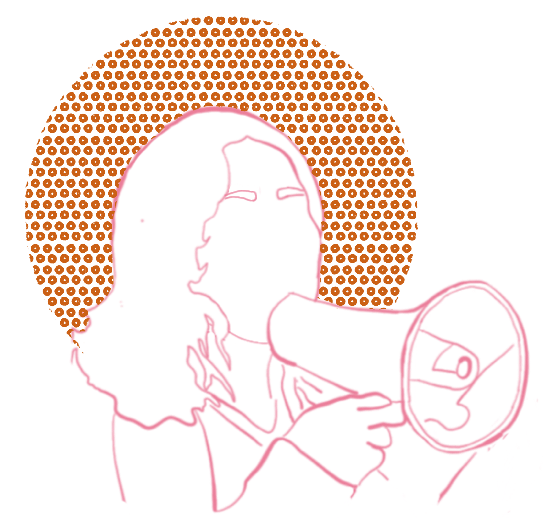 Community Soundscapes
Meet the women documenting neighborhood life in Boyle Heights during COVID in this bilingual Q+A by ACTA Media and Archives Intern Nestor Guerrero!
Collective Songwriting
In the winter and spring of 2021, ACTA will continue to lead collective songwriting sessions in the community of Boyle Heights working with base communities organizing around the rights of street vendors, community control of land for housing and growing food, restorative justice, and others. The traditional practice of collective songwriting contributes to strengthening community agency, supporting collective action on policy issues affecting residents through active participation in the process of gathering, composing, and organizing.
This project was made possible with support from California Humanities, a non-profit partner of the National Endowment for the Humanities. Visit calhum.org.
---
In the Sounds of California Bayview concert on April 29, 2018, our musical artists pondered displacement, migration, and creating a new sense of home. The musicians hail from the Bay Area's African-American, Vietnamese, Kurdish, and Chicano communities. The concert took places in the heart of the Bayview-Hunter's Point neighborhood of San Francisco, once the pristine coastal fishing grounds of the First Peoples: the Muwekma Ohlone tribe. Today, the Bayview is at the nexus of gentrification, with demands for new housing and development due to the Bay Area's booming tech economy. Transformation is the heart and soul of this neighborhood.
 The history of the Bayview-Hunter's Point neighborhood embodies the very questions we ask ourselves in the Sounds of California program: What does home mean when your lineage is disrupted by migration, war, coercion, economics, or personal choice? What makes us belong to a place? What is the sonic footprint we carry in our hearts and minds to give us a sense of home? For all of the musical artists in this program, there is a long line of memory extending perhaps generations.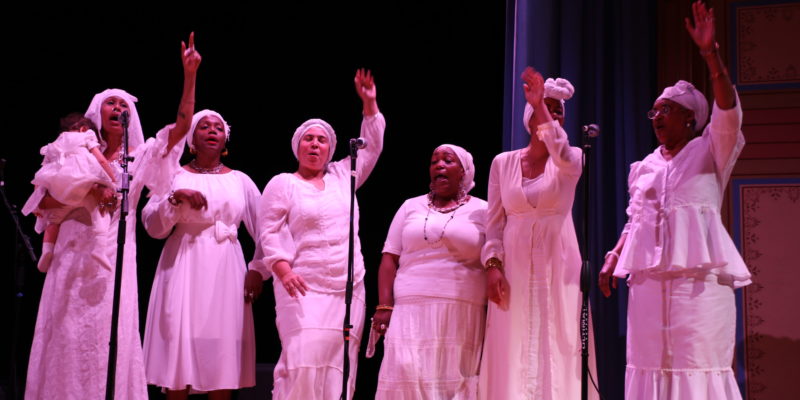 Singers from the Omnira Institute's Awon Omnira Choir create connections between the African-American experience and African spirituality through their sacred drumming and chants. Photo by Sonia Narang/ACTA.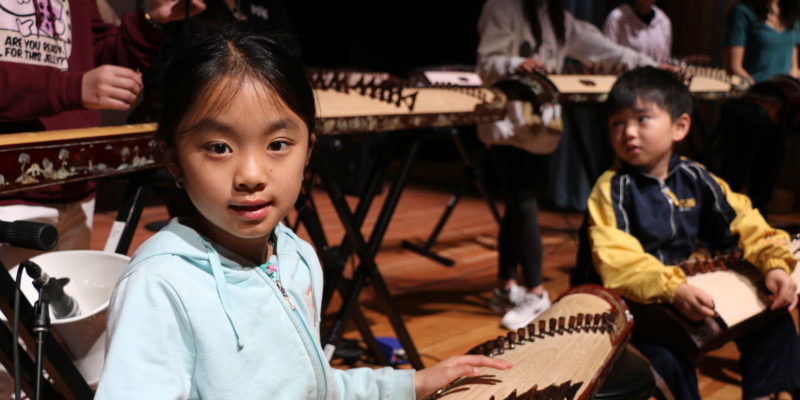 Young performers from Au Co Vietnamese Cultural Center prepare for their performance. Photo by Sonia Narang/ACTA.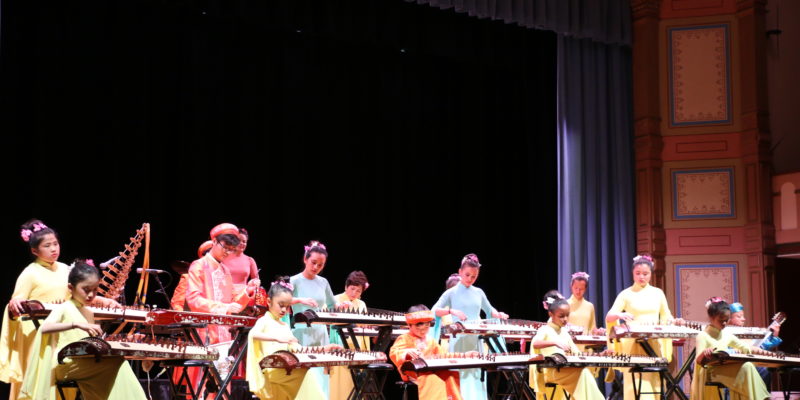 Students from the Au Co Vietnamese Cultural Center perform.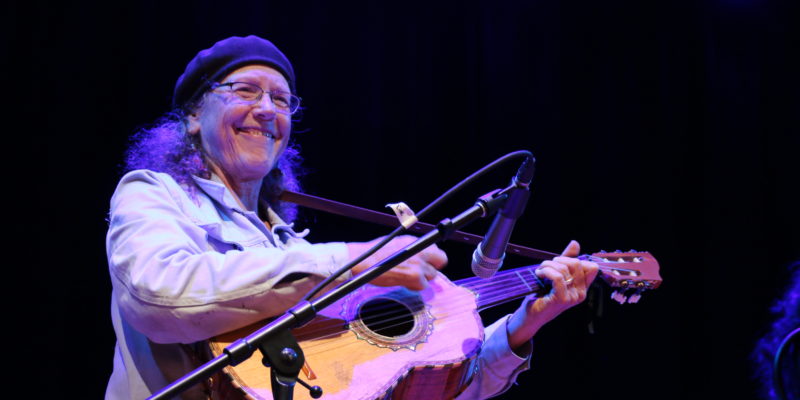 Rehearsal with musicians from La Familia Peña-Govea, a family of musicians who perform traditional Mexican songs with an activist Chicano perspective. Photo by Sonia Narang/ACTA.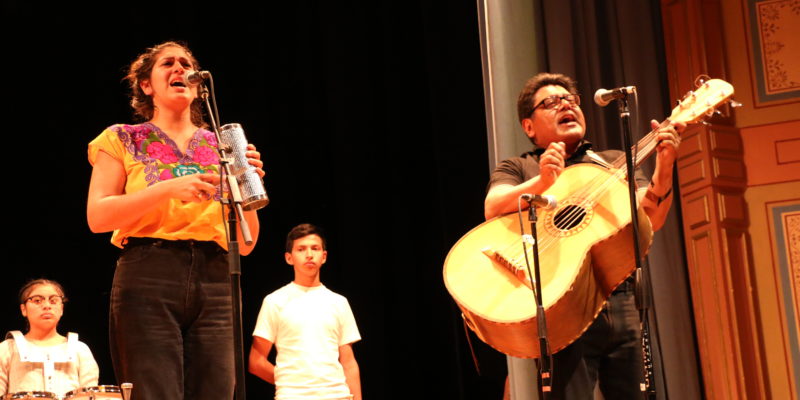 La Familia Peña-Govea perform. Photo by Sonia Narang/ACTA.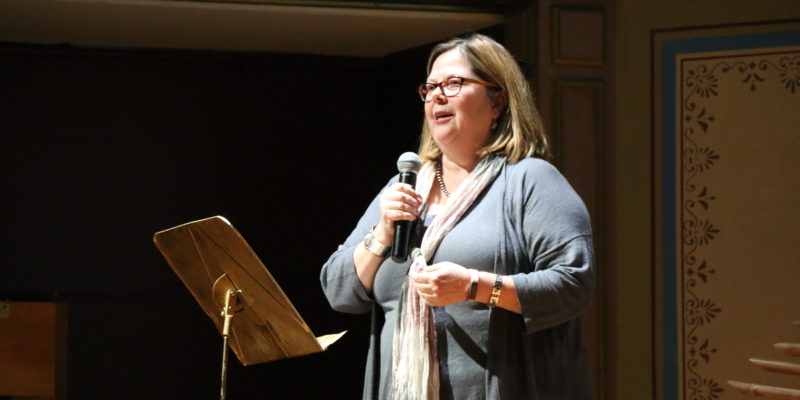 ACTA Executive Director Amy Kitchener. Photo by Sonia Narang/ACTA.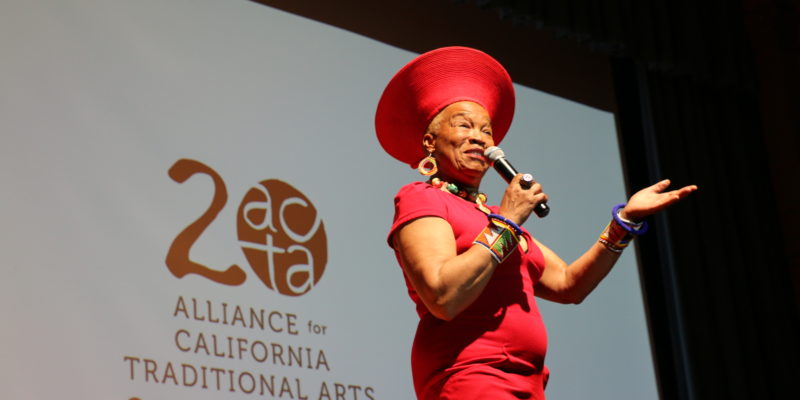 Master of Ceremony Rhodessa Jones, co-artistic director of the acclaimed San Francisco theater company Cultural Odyssey and recipient of the prestigious U.S. Artist Fellowship. Photo by Sonia Narang/ACTA.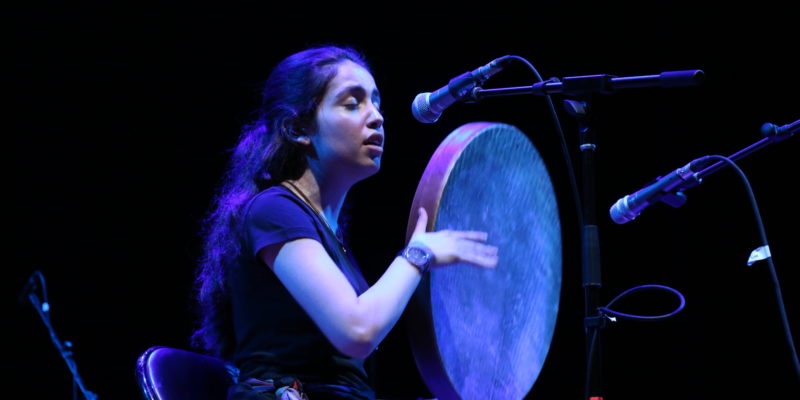 21-year-old Kurdish-Alevi musician Isik Berfin, who performed with her mother Özden Öztoprak. Their distinct Kurdish repertoire of songs stem from a Sufi spiritual tradition that has passed down behind closed doors, from Özden's grandparents to Berfin. Photo by Sonia Narang/ACTA.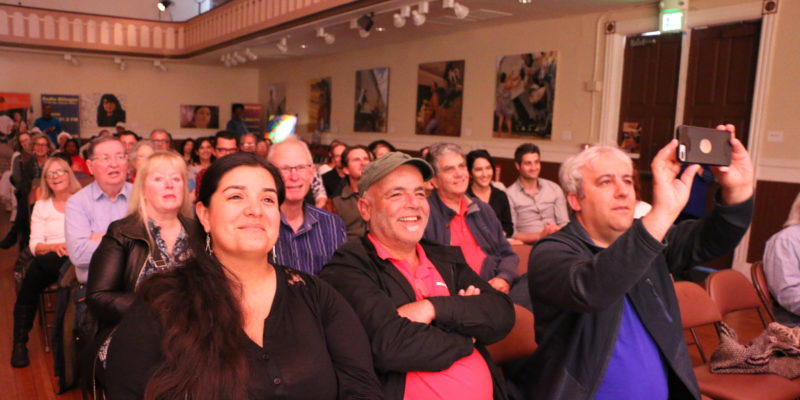 Audience members at the 2018 Sounds of California Concert in Bayview.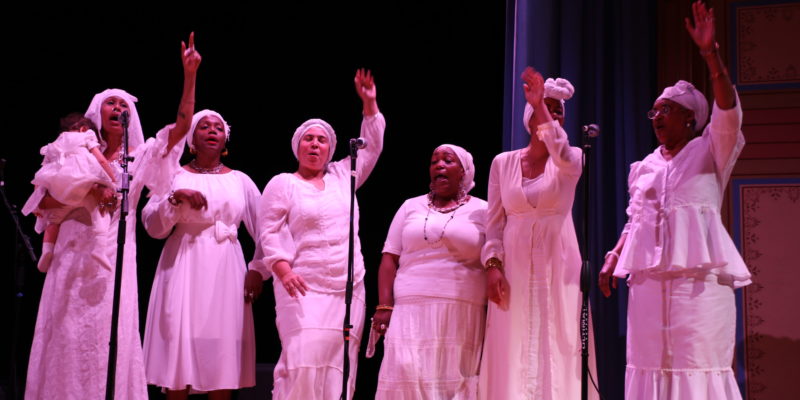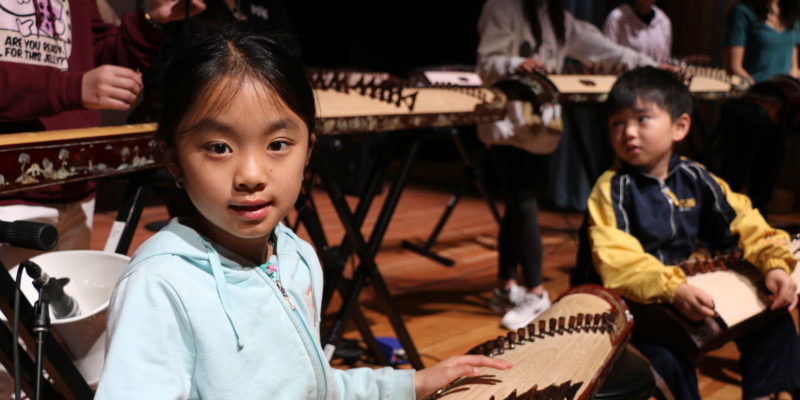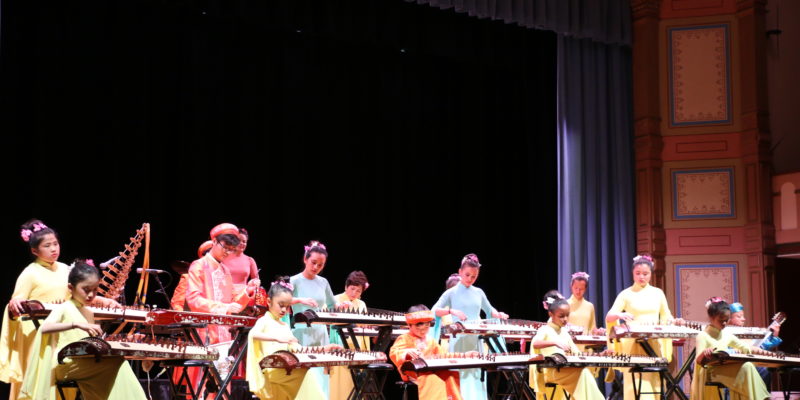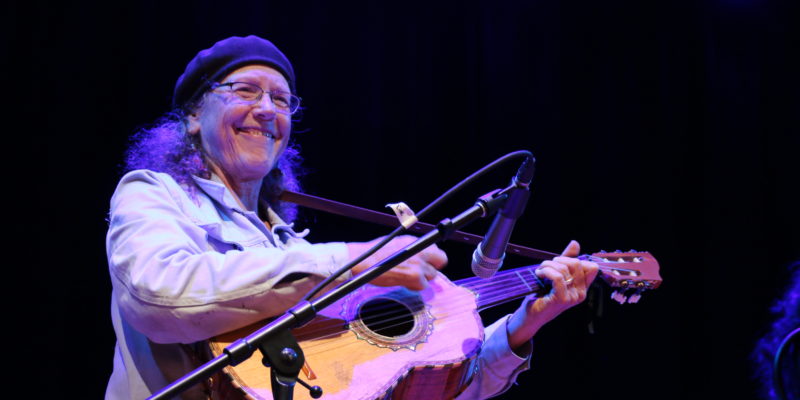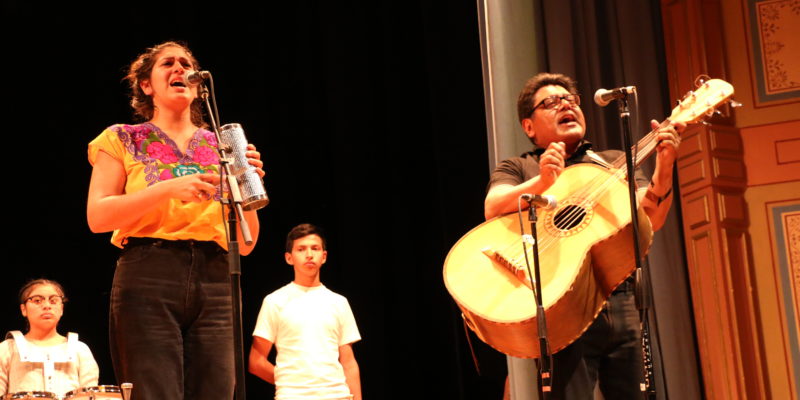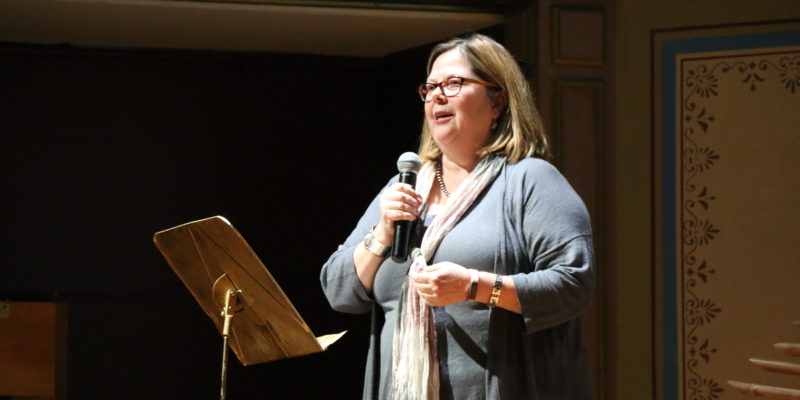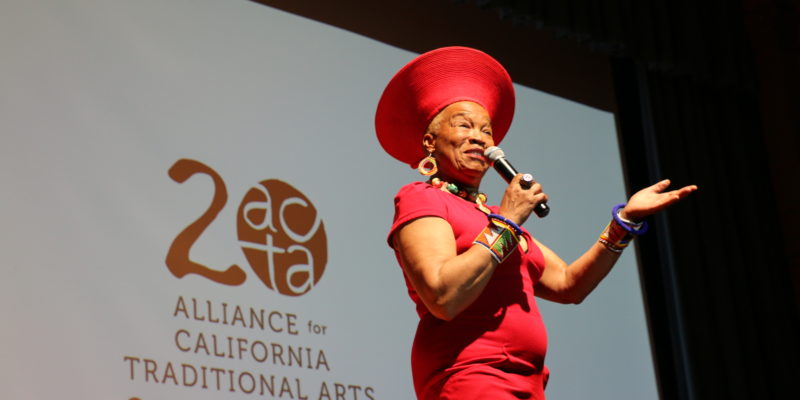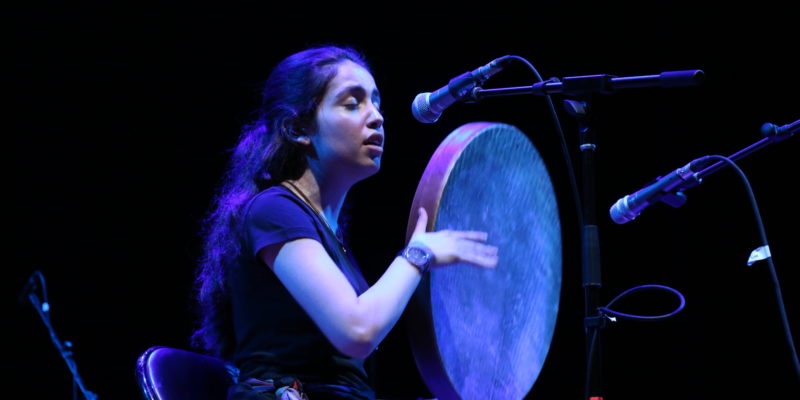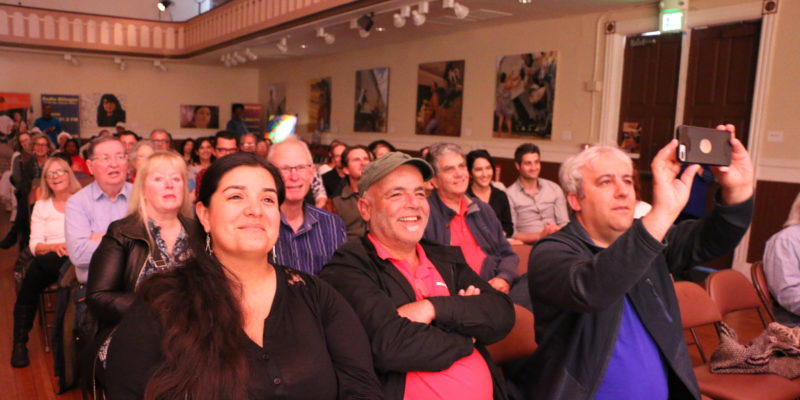 Next slide
---
ACTA visited the Mayfair district of East San Jose on March 19, 2017, working with our partner, The School of Arts & Culture, housed at the Mexican Heritage Plaza. The occasion was a year-long initiative known as Celebrate Mayfair, an effort by organizations and residents to create a new narrative for their under-resourced neighborhood. At the center of this effort is the central tenet that by connecting people to one another, changes towards better health, safety and urban blight can be addressed by the people who live there. It is also an important way to recognize the assets of a neighborhood instead of characterizing it only through real and perceived deficits. The School of Arts and Culture played a central role in this initiative, inviting residents through their shared local histories (where activist Cesar Chavez got his start), and their cultural expressions to engage in this effort and to enjoy their neighborhood.
Hear from some of the artists who participated in the Sounds of California recording sessions in Mayfair in this video:
---
ACTA co-produced the Sounds of California program at the 2016 Smithsonian Folklife Festival on the National Mall in Washington D.C. with the Smithsonian Center for Folklife and Cultural Heritage, Radio Bilingüe, the Smithsonian Asian Pacific American Center, and the Smithsonian Latino Center. The Sounds of California program included a series of concerts, performances, and activities, offering an auditory journey about how musical culture mirrors the movements reshaping the state and the nation today. We featured artists who contribute to the soundscapes of California and who demonstrate the social power of music and cultural heritage.
The range of expression by 60 artists – such as Marta and Stan Rodriguez, Preston and Helena Arrow-weed, FandangObon, and John Santos Sextet with Bobi Cespedes – represent a range of perspective regarding continuity and change in music and expressive sound within our state's history as a site of migration and immigration. While rooted in the terrain of their communities, these artists work across borders—in many senses. They sustain traditions to bridge distant homelands to their present homes. They remix traditions to forge new variations and collaborations. They deploy traditions to engage and invite others to action.
Hear L.A.-based musician Martha González of the band Quetzal speak about why it is important to highlight and share local culture at the national level:
This program was co-produced with the Alliance for California Traditional Arts, Radio Bilingüe, the Smithsonian Asian Pacific American Center, and the Smithsonian Latino Center. Presenting partners included the Aga Khan Music Initiative, Tumo Center for Creative Technologies, and My Armenia, a collaborative project between the people of Armenia, USAID, and the Smithsonian Institution. The program received Federal support from the Latino Initiatives Pool, administered by the Smithsonian Latino Center, and the Asian Pacific American Initiatives Pool, administered by the Smithsonian Asian Pacific American Center. Other supporters included the Sakana Foundation and Smithsonian Grand Challenges Consortia for the Humanities.
The inaugural Sounds of California concert took place at the Oakland Museum of California, where we explored the themes of our State's diverse population where through the lens of immigration and migration.
This Sounds of California concert was co-presented by Alliance for California Traditional Arts, Radio Bilingue and Smithsonian Center for Folklife and Cultural Heritage in partnership with the Oakland Museum of California at James Moore Theater in the Oakland Museum on December 6, 2015.
Hear the performing artists from the 2015 concert in dialogue with each other and ACTA board president Dan Sheehy:
Funders
The Sounds of California initiative is an ongoing partnership between the Alliance for California Traditional Arts (ACTA), Radio Bilingüe, and the Smithsonian Center for Folklife and Cultural Heritage. The Boyle Heights project was made possible with support from California Humanities, a non-profit partner of the National Endowment for the Humanities. Visit
calhum.org.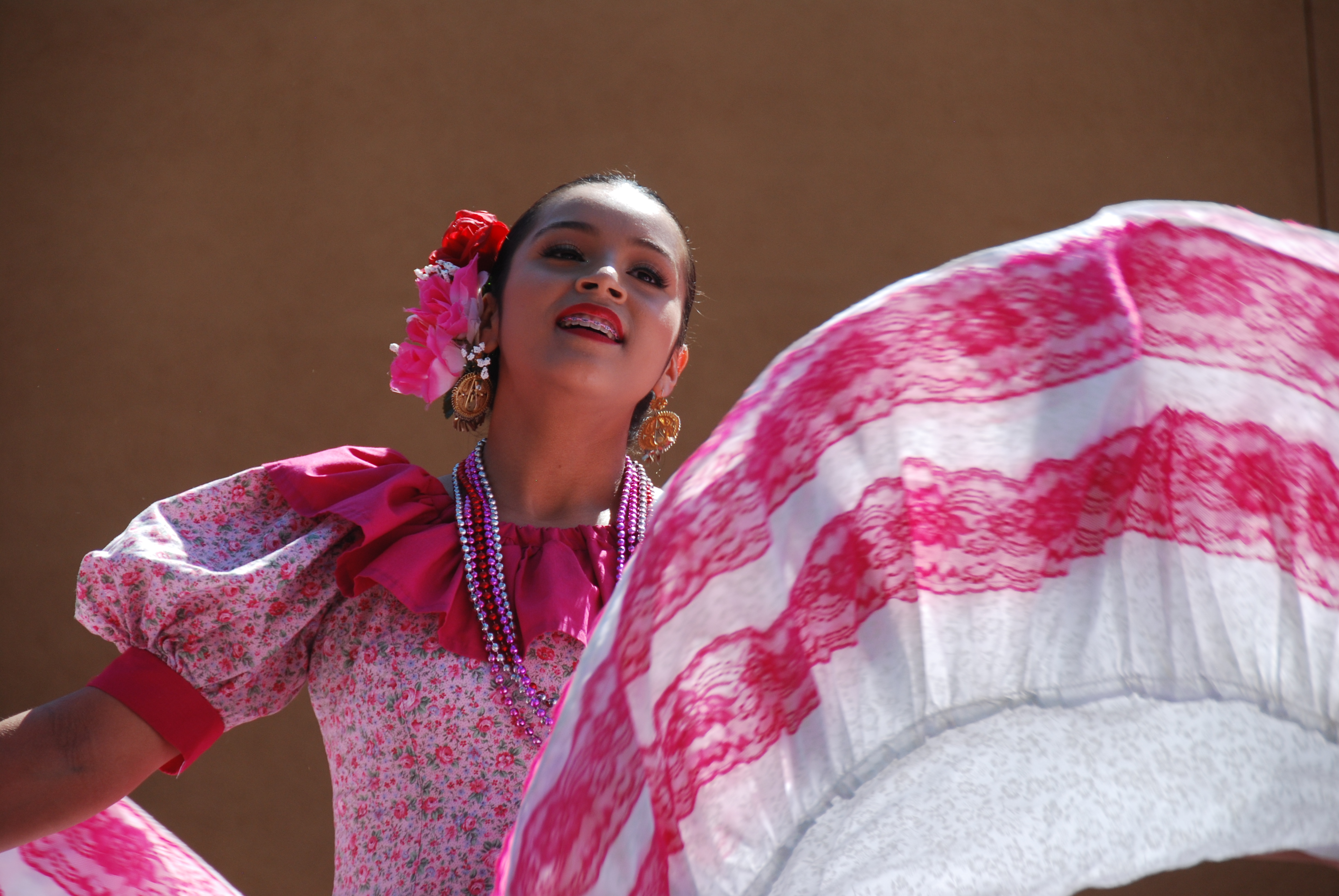 Learn more on our YouTube channel!
See and hear the cultural richness of California by subscribing to ACTA's YouTube channel! With documentaries, interviews, and performance videos, our channel takes you across the state of California through the traditional arts.