Below a list of the artists and themes for each event.
October 23 Angelica Mata and Martin Saavedra
A chat between mariachis about the tradition, struggles, and the evolution of the music
October 30 Eddika Organista and Raul Pacheco
Two Chicanx songwriters discuss their connection to the visual, sonic, and political landscape of Boyle Heights.
Nov 6 Cesar Castro and Vaneza Mari Calderón
Two traditional musicians share their love songs to Boyle Heights, singing of gentrification, cultural loss, and what remains.
Nov 13 La Marisoul and Lysa Flores
Two generations of women songwriters Lysa Flores and La Marisoul unpack love, decolonization and sanctuary space in Boyle Heights.
Nov 20   Gabriel Gonzalez and Nobuko Miyamoto
Two versatile artists take us through the multiracial history of Boyle Heights from redlining to the Jewish Bakers Union to the incarceration of Japanese Americans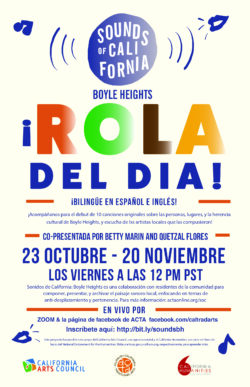 A continuación una lista de lxs artistas y temas para cada evento. 
October 23  Angelica Mata y Martin Saavedra
Una charla entre mariachis sobre la tradición, las luchas, y la evolución de la música
October 30 Eddika Organista y Raul Pacheco
Dos compositorxs chicanxs discuten su conexión con el paisaje visual, sonoro y político de Boyle Heights
Nov 6 Cesar Castro y Vaneza Mari Calderón
Dos musicxs tradicionales comparten sus canciones de amor a Boyle Heights, cantando sobre el aburguesamiento, la pérdida cultural, y lo que permanece
Nov 13 La Marisoul and Lysa Flores
Dos generaciones de mujeres compositoras Lysa Flores y La Marisoul desentrañan el amor, la descolonización y el espacio santuario en Boyle Heights. 
Nov 20   Gabriel Gonzalez y Nobuko Miyamoto
Dos artistas versátiles nos llevan por una historia multiracial de Boyle Heights desde las prácticas discriminatorias en la vivienda al Sindicato de Panaderxs Judixs al encarcelamiento de personas japonesas americanas