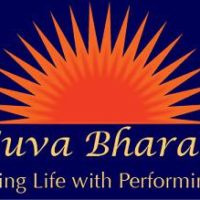 Yuva Bharati
Indian classical music and dance
About the Organization
Yuva Bharati is a nonprofit organization formed in 2006 to promote classical Indian dance among youth in the United States.  Yuva Bharati provides a stage for solo performances for upcoming artists.  It also invites dance teachers and senior artists to perform.  Swara Lahari is the classical music wing of Yuva Bharati.  Swara Lahari also promotes both upcoming and senior artists.  As their primary activity, Swara Lahari records 30-minute classical Indian music to be televised weekly to the San Francisco Bay Area.  The telecast is available in the Bay Area, Los Angeles, and Atlanta, as well as webcast through internet archives.  Since 2007, over 200 emerging and established artists have been recorded in the Mountain View studio.  The entire operation is volunteer-run, from shooting to post-production work.
Living Cultures Grant Program
Yuvabharati received a Living Cultures grant to support "Kalpana," a flagship program that features amateur dancers who have qualified through an arangetram, a two hour solo performance. These young artists are encouraged to choreograph their dance to piece of music of their choosing which will conform to a theme chosen by the Yuvabharati committee. This is a immense opportunity for the young artists as they get to choreograph a dance and explore their creativity .
2016, 2014 and 2011
Yuva Bharati received Living Cultures funding to support their weekly Swara Lahari telecast.