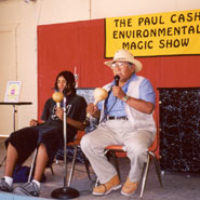 Preston Arrow-Weed
Kumeyaay tribal songs
Very few members of the Quechan and Kumeyaay peoples who live along the California-Mexico border know the sacred songs that celebrate the rites of passage from birth to death that are integral to their culture. Within these cultural groups there are rich histories and expressions that preserve the ways of knowing for these communities. Expressions such as the Wildcat song cycles, Shuluk (Lightning) or Bird songs are sung, accompanied by gourd rattles that establish rhythmic structure for the songs to be shared. The song cycles are composed of hundreds of songs all of which tell a specific story, all of which play a central role in the maintenance of Quechan and Kumeyaay history and culture.
As one who still speaks and understands the native languages of these communities and who understands and knows those songs in their correct order, Preston J. Arrow-weed is committed to preserving the past for coming generations. He is a member of the Quechan tribe and was raised by his Kumeyaay grandmother, thus learning the culture of both groups. In addition to being a cultural leader in his community, Arrow-weed is also an educator, actor and playwright. He has dedicated much of his life to teaching Quechan and Kumeyaay languages, which are Hokan dialects He is a member of the Screen Actors Guild-American Federation of Television and Radio Artists (SAG-AFTRA), and is the founder of the California Inter-Tribal Theatre and worked as a drama teacher at D-Q University. Arrow-weed also has received recognition by various organization for his work as an environmental advocate.
As a master artist in ACTA's Apprenticeship Program in 2017, Preston Arrow-weed will mentor Stanley Rodriguez in the song tradition Shuluk, the Lightning Song Cycle. Rodriguez, a member of the Kumeyaay tribe, was previously an apprentice in the Apprenticeship Program working with master artist Juan Meza Cuero (2001), in which he learned and has since become a bearer of the Wildcat cycle of songs.
In 2002, Preston was a master artist in ACTA's Apprenticeship Program with his grandson and apprentice Mucaw Jefferson. Preston and Mucaw used the apprenticeship to continue to immerse Mucaw in the traditional ways and to teach him the funeral songs that are essential to their traditional Quechan beliefs.