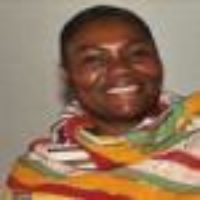 Naomi Gedo Diouf
West African dance
Naomi Gedo Diouf, an expert in West African dance, history, costume, song and culture, began learning Liberian dances at the age of five from her mother and grandmother in Liberia.  She also trained at the Kendeja Cultural Center for Indigenous Performers, studying not only with Liberian dancers but with prominent dancers and musicians from many other West African nations.  Her apprenticeship under Constance Taul of the Paris Ballet led her to research dance forms from around the world.  She is now the artistic director of Diamano Coura West African Dance Company in Oakland, California, and she has choreographed works for many other professional companies including a consultancy on the classical/African fusion choreography and music Lamberena.  She is an advocate of arts-in-education and has taught West African dance in schools throughout California and abroad.
African dance is characterized by its gracefulness, athleticism and rhythmic movements.  In Africa, dance is a part of everyday life.  Important in rituals and ceremonies, it can be used to mark life's transitions, to heal, to tell a story, or for pure enjoyment.  Unlike forms of Western dance such as ballet, which are performed only by experts, African dance can be performed by all members of the community.  Naomi aims to preserve West African dance and introduce it to new audiences through her work in the schools and performances with her award winning company, Diamano Coura, which means "those who bring the message" in Wolof, a Senegalese language.
In 2003, Naomi was a master artist in ACTA's Apprenticeship Program with her apprentice and daughter, Kine Marcella Diouf.  Their apprenticeship focused on teaching Kine the klakan, a traditional female dance of the Kru people of Liberia that signifies passage to womanhood.
In 2018, through ACTA's Apprenticeship Program, Diouf mentored her long-time apprentice and Nikka Maynard in multi-disciplinary African folklore performance and art. The focus of the apprenticeship also included mentorship around the stewardship and artistic direction of the Diamano Coura West African Dance Company.
Select Performances
Black Choreographers Festival: Here & Now, Theater Artaud, San Francisco, California, 2005
Diamano Coura West African Dance Company's Annual Repertory Concert, Malonga Casquelourd Center for the Arts, Oakland, California, 2004
Collage des Cultures Africaines, Calvin Simmons Theater, Oakland, California, 2004
Accomplishments
Isadora Duncan Award, Best Performing Company, 2004
ACTA's Apprenticeship Program Master Artist, 2003
Berkeley High School's Teacher of Excellence Award, 2001
Who's Who Among American Teachers, 1999
California Arts Council Artist-in-Residence, 1991-1994
International Certificate of Excellence Award, The Netherlands, 1991
Teaching Experience
Alvin Ailey/Cal Performances Dance Camp, Berkeley, CA, 75 students, 2003-2005
Kankouran Dance Conference, Washington, D.C., 150 students, 1999-2004
Laney Community College, Oakland, California, 135 students, 1995-present
Berkeley High School, Berkeley, California, 175 students, 1991-present
Malonga Casquelourd Dance Collective, Oakland, CA, 1000 students per year, 1987
Professional Services
Mentorships
Demonstrations
Lectures
Educational presentation to schools or community organizations
Exhibitions
Performances
Plans arts events
Cultural consultancies
Costume design
Facilitates tours to Senegal
Gallery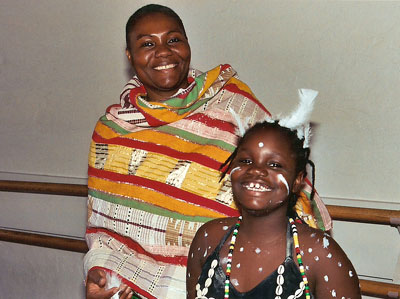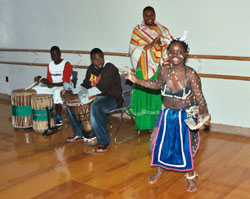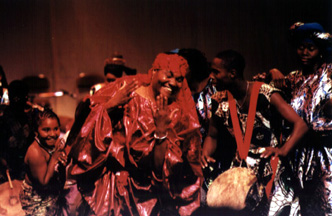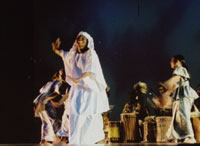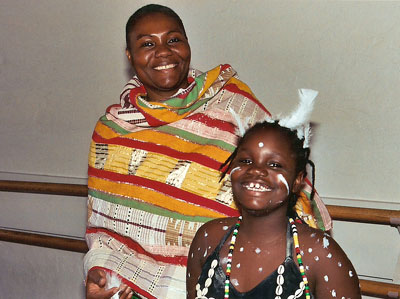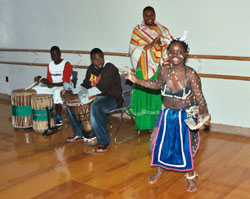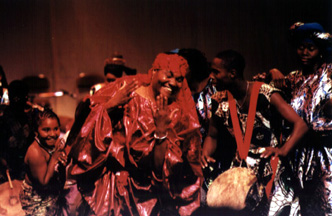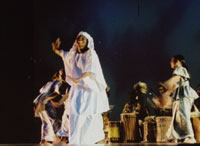 Next slide