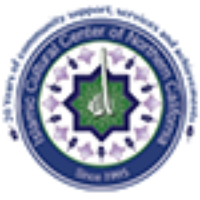 Islamic Cultural Center of Northern California
The Islamic Cultural Center of Northern California is a nonprofit organization serving the Muslim-American and greater Bay Area communities. ICCNC provides a dynamic space that cultivates an exchange of ideas about Islam through art, culture, and education. In existence since 1996, ICCNC provides religious services to Bay Area Muslims, a weekend Farsi school for children, and various cultural and social programs. Their arts and cultural activities welcome the general public.
In 2014, ICCNC received a grant from ACTA's Living Cultures Grants Program to support their Traditional Song & Spirit series. A series of music concerts and workshops at the ICCNC will feature various traditional music and musicians from the Islamic world. The so-called "Muslim world" is a diverse collection of countries and traditions that span North Africa to Malaysia, and now includes the U.S. as an important hub for the preservation, performance, and hybridization of these diverse traditions. As an important presenting organization in the Bay Area with a dedicated season of offerings devoted to the arts and cuture, ICCNC has a significant track record of successful arts events, and strives to better connect Muslims to their rich cultural traditions, while also bridging Muslim and non-Muslims together through the arts.
In 2013, ICCNC received a grant from ACTA's Living Cultures Grants Program to support the Calligraphies in Conversation project. Two exhibits are featured in a series of public exhibitions and workshops that showcase traditional Islamic calligraphy in dialogue with calligraphic and textual art from other religions and cultures. Partnering with Ziya Studio, a group of Persian-schooled calligraphy artists in Berkeley, the living traditional art form will be brought to a culturally diverse audience in March and will examine sacred text art with an interfaith focus. The second exhibition planned for September 2013 focuses on the connections between Islamic and Chinese calligraphic traditions which will be held at the Oakland Asian Cultural Center.
Gallery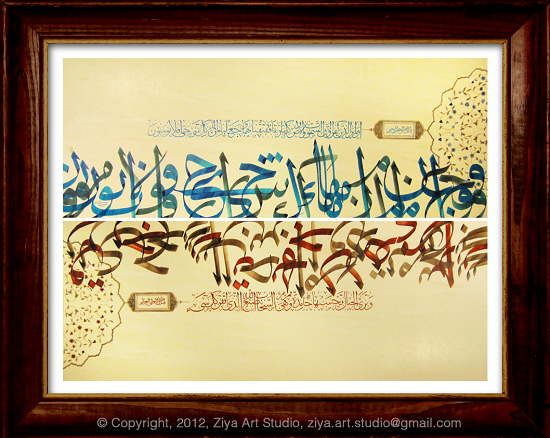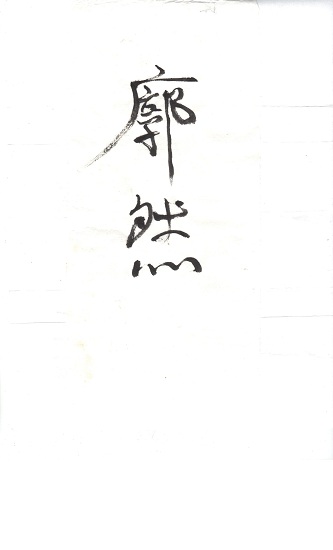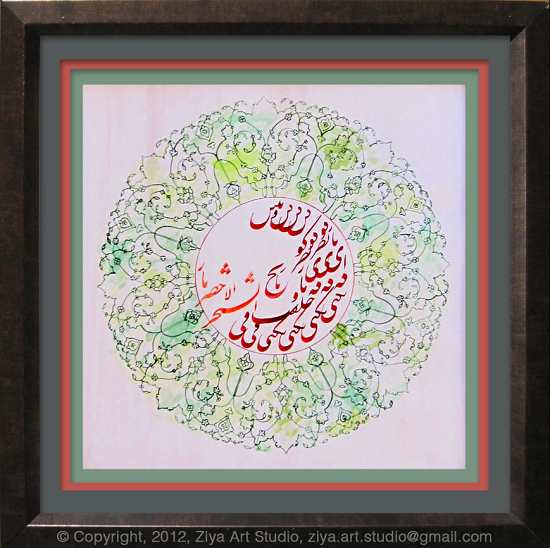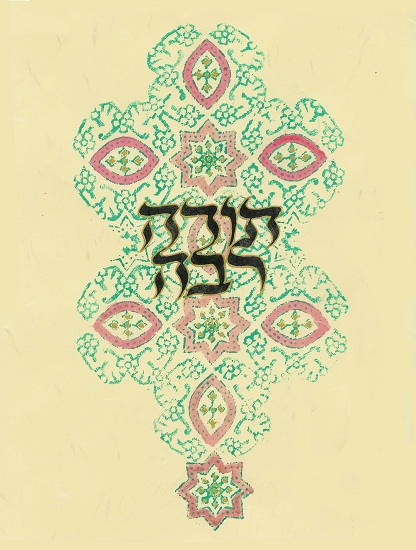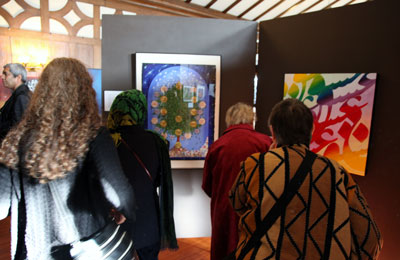 Upon entering, The Tree of Life (on left) by artist Naomi Teplow and the bright colors of the painting Eshgh (Love) by Salma Zahedi set the tone of the exhibit.
Contemplating a work that brings together the Arab and English languages with the same message: Peace be with you.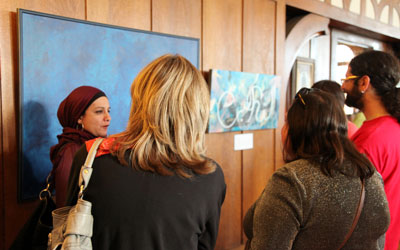 Artist Najiba Baig interacts with attendees.
Serenity by Najiba Baig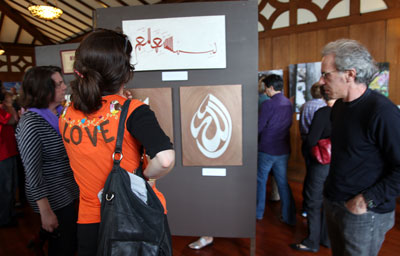 Pondering the calligraphy of Nabeela Sajjad's copper and silver colored works, below.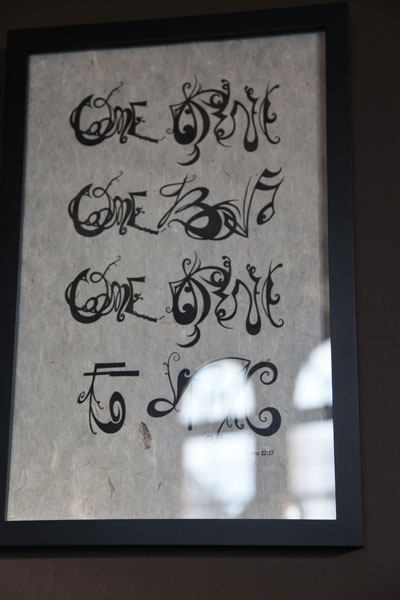 A work on rice paper is by Soojin Lee, referencing 1 Corinthians 12:13, which reads, "For by one Spirit are we all baptized into one body, whether we be Jews or Gentiles, whether we be bond or free; and have been all made to drink into one Spirit."
A clergy person in attendance focusing on an art submission.
The exhibit was attended by men and women whose religious observance varied from observant religious practitioners to secular-humanists with a deep interest in interfaith dialogue.
Arash Shirinbash, an Iranian calligrapher, mixes media with this photo of a dervish whose devotion to the divine is accomplished by whirling to devotional music. His brush strokes also suggest movement.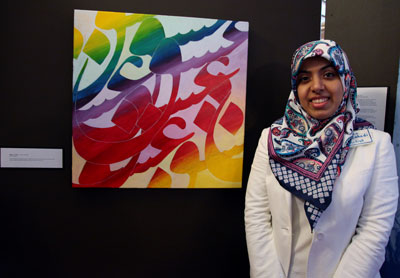 Eshgh, or Love, was painted by Salma Zahedi.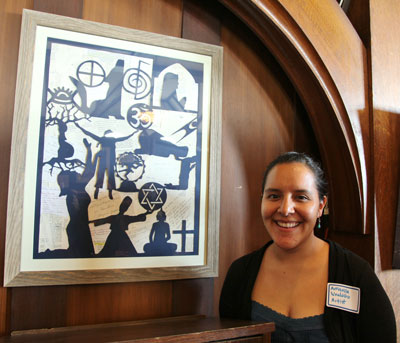 Inspired to submit work to the show, Candian Native Amanda WouldGo is Shuswap and Wampanoag. She incorporates into her papercut piece symbols from her indigenous beliefs.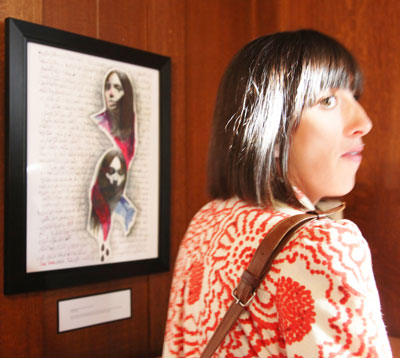 Interacting with the art, an attendee seems to be part of the art work behind her by Sarah Taibah entitled Moonstruck.
Photographed with her certificate of appreciation given to all artists in the show is Farzaneh Moayer. She is the principal of the Andeesheh Educational Program of ICCN which provides classes for children and adults in Farsi language, Islamic studies, theater, traditional Persian music, and calligraphy. She poses below her painting, Islam Means Peace.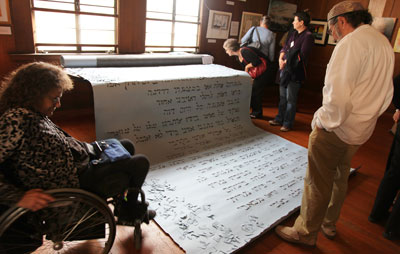 Detail of Ariella Barlev's paper cut scroll, from the Book of Lamentations. She describes her upbringing as "aggressively atheist" but eventually came to Judaic art to begin to reconcile her relationship as a grandchild of grandparents whose lives ended in Treblinka, a Nazi extermination camp.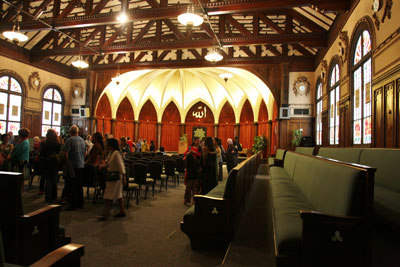 The Islamic Cultural Center of Northern California's main hall where worship and meetings take place, hosting the reception's opening speeches before moving upstairs to the exhibit space.
Referencing the Nazi period of extermination, and rebirth from tragedy, this triptych by Julie Cohn is entitled Eternal Faith.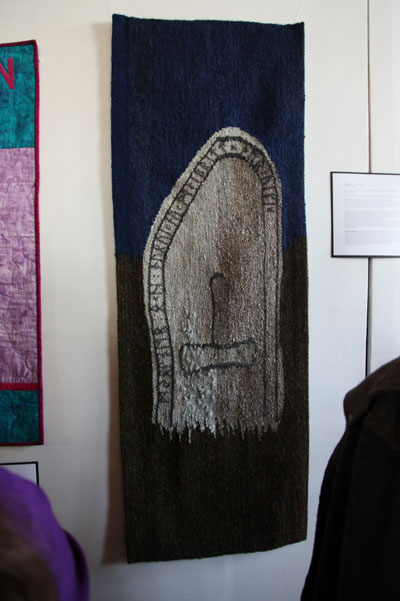 Tor Vige by artist Maj-Britt Mobrand is a woven textile of a Rune stone marker from her childhood memories in Scandinavia.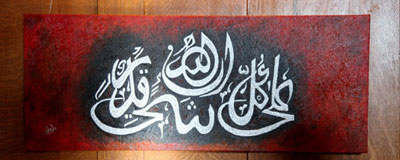 Azeem Kahliq's work is entitled Indeed God Has Power Over Everything.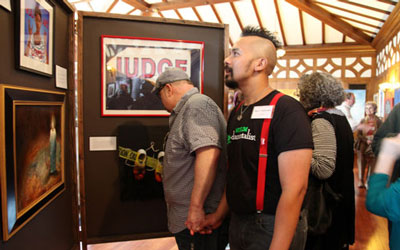 Artist Mark Casteneda (aka Mu'min) is an openly gay man who has found support in his mosque.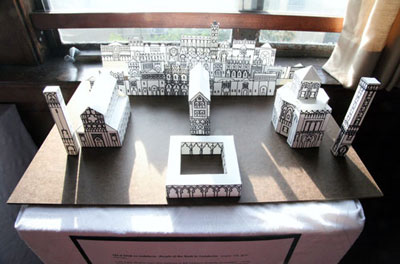 Mark Casteneda's rendition of a town square in Andalucia, a connection to a possible Sephardic or Moorish ancestry.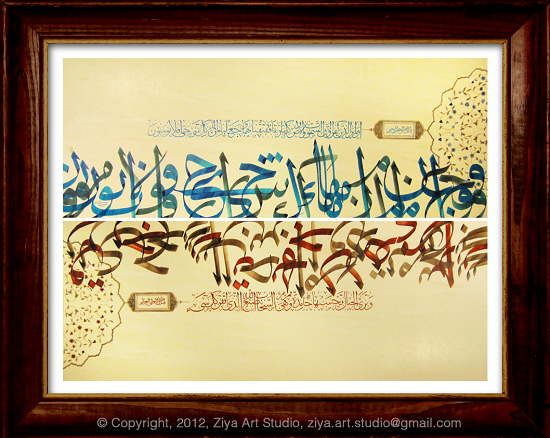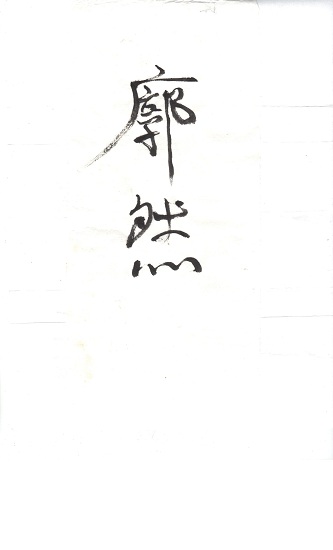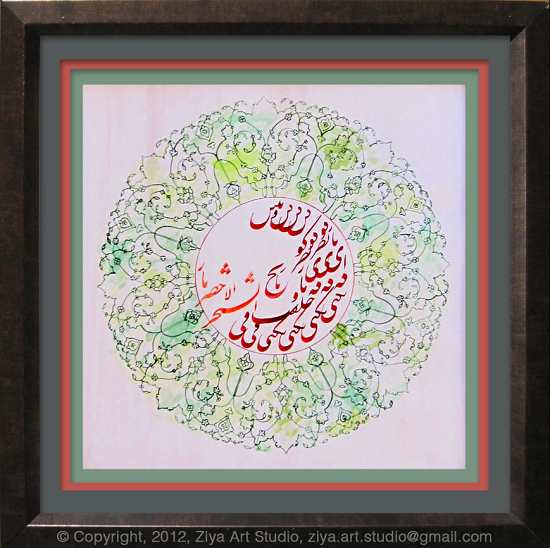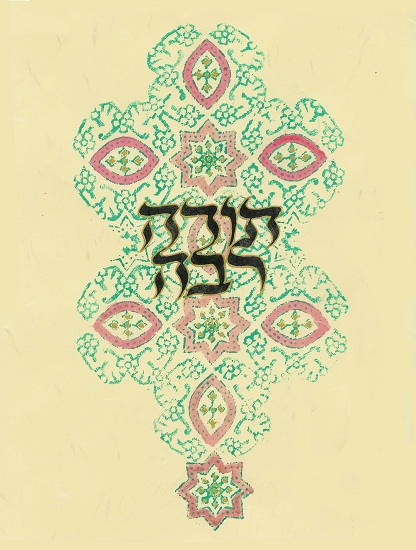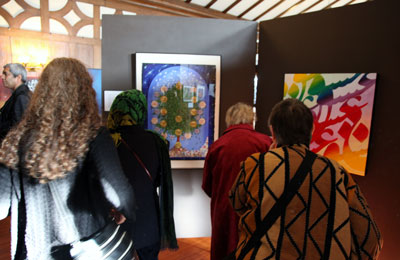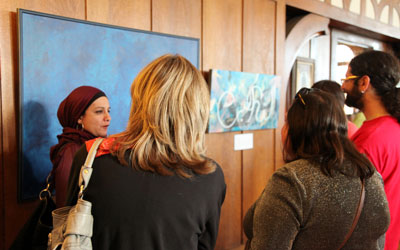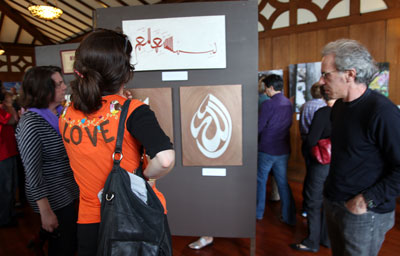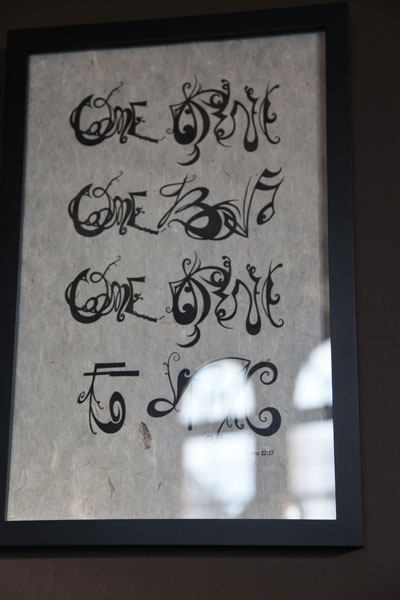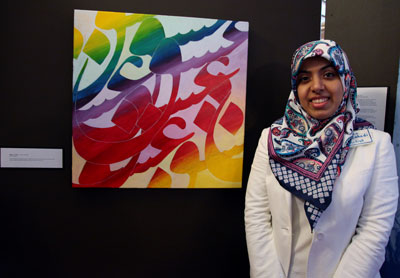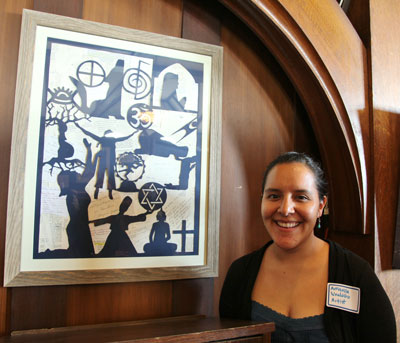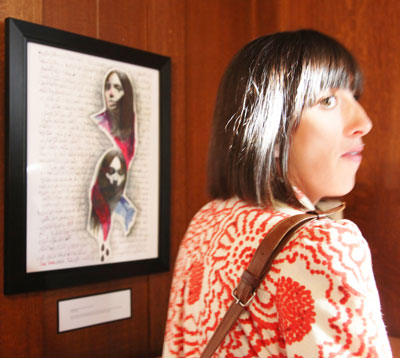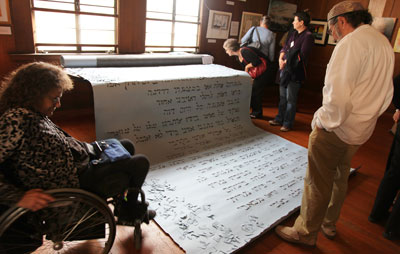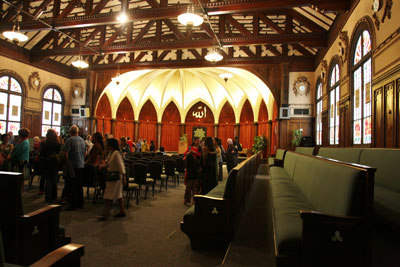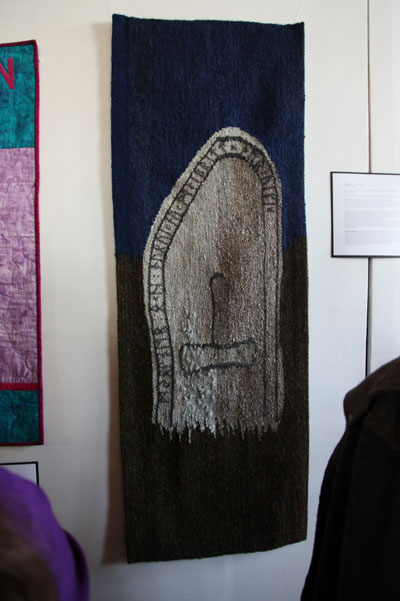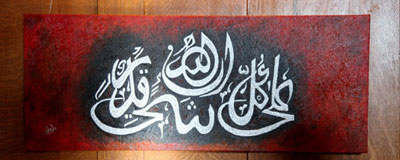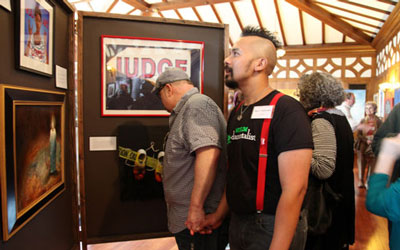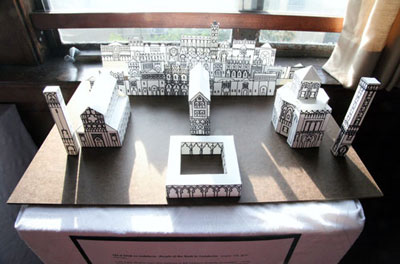 Next slide