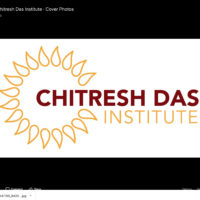 Chitresh Das Institute
Community, legacy, and service
About the Organization
The mission of the Chitresh Das Institute (CDI) is to present traditional and innovative kathak and Indian classical arts, with commitment to community, legacy, and seva (service). The Institute is part of the rich legacy of Pandit Chitresh Das, a master and virtuosic performer of the classical kathak tradition. CDI was co-founded in 2016 by Artistic Director Charlotte Moraga, Celine Schein Das, the former Executive Director of the Chhandam Chitresh Das Dance Company and Pandit Das' widow, and Preeti Zalavadia, who taught under Pandit Das for over ten years and led his school's largest branch. Apart from producing large annual and smaller productions, CDI offers Bay Area residents classes in kathak from beginning to professional as well as music, cultural context, history, philosophy, and spiritual understanding. Committed to maintaining the highest standard and the tradition, CDI believes in doing performances that build community and greater awareness.
In 2002, Pandit Chitresh Das founded a youth company with Charlotte Moraga as the Director. The Chitresh Das Youth Company (CDYC) was formed to provide youth with the opportunity to study directly under this great master. Charlotte Moraga, who directed the Youth Company for over a decade under Pandit Das, continues to provide the intensive training and pre-professional performance experience. In addition to training in technique and theory, members learn history, philosophy, mathematics, and spirituality that form the foundation of kathak and the philosophy of Pandit Chitresh Das. The Chitresh Das Youth Company remains an anchor program of the CDI.
Living Cultures Grant
2020
Kathak Dancer Fellowship
In 2020 the Chitresh Das Institute received a Living Cultures Grant from ACTA to create a Kathak Dancer Fellowship to provide support for continued training, deeper education, and performance opportunities for alumni and graduating Chitresh Das Youth Company members. This program will enable the dancers to develop their skill, artistry, and, importantly, as kathak soloists. The solo is the most traditional and challenging form of kathak. The Fellowship will provide the support to help Youth Company alumni overcome barriers to continued participation in dance after graduating from Youth Company and go on to college and university.