César Castro comes to ACTA as a Program Coordinator for Reentry Through the Arts and La Cultura Cura and is responsible for supporting the coordination of weekly traditional arts workshops both online and in person for these programs. César has engaged with ACTA's various programs as an artist collaborator for many years, including as a teaching artist in the Arts in Corrections program.
César is a professional musician in the Son Jarocho genre, a luthier (stringed instrument maker) and an instructor. He is an active liaison between communities in the US and Veracruz Mexico for over 15 years via Radio Jarochelo, a community-based podcast started in 2010 (now live on public radio), and through organizing and promoting cultural projects, artist residencies with musicians from Veracruz, and events in local communities, cultural centers, schools, universities and, most recently, in California state prisons.
César has established a career emphasis on community building, organizing and engagement through projects in participatory art forms, specifically, traditional Son Jarocho music from Veracruz, Mexico. He holds vast knowledge and experience in the Son Jarocho/Fandango traditional art forms and engages disenfranchised communities in building self-sustaining projects that tap into and build upon cultural knowledge, embodied experience and memory.
What excites you the most about the work of ACTA? 

What excites me most about ACTA's work, without a doubt, is that it is a non-profit organization that supports the development of traditional cultures–and at the same time–supports new cultural manifestations that are emerging in the always changing and complex Californian society. At ACTA you can find projects from many parts of the world and in various artistic manifestations such as handmade goods, music, dance, poetry, etc. that take place in both public spaces around the city and in the prisons of the state of California.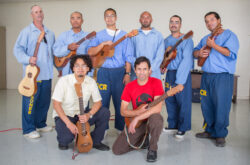 César Castro llega a ACTA como coordinador de programas de Reinserción a Través de las Artes y La Cultura Cura y es responsable de apoyar con la coordinación de talleres semanales de artes tradicionales en línea y en persona para estos programas. César se ha comprometido con los diversos programas de ACTA como artista colaborador durante muchos años, incluso como artista docente en el programa Artes en la Correccionales.
César es un músico profesional en el género Son Jarocho, un laudero (fabricante de instrumentos de cuerda) y un instructor. El e un enlace activo entre las comunidades en los EE. UU. y Veracruz México durante más de 15 años a través de Radio Jarochelo, un podcast comunitario que comenzó en 2010 (ahora en vivo en la radio pública), y a través de la organización y promoción de proyectos culturales, residencias artísticas con músicos de Veracruz, y eventos en comunidades locales, centros culturales, escuelas, universidades y, más recientemente, en prisiones estatales de California.
César ha establecido un énfasis profesional en la construcción comunitaria, la organización y la participación  a través de proyectos con formas de arte participativas, específicamente, la música tradicional Son Jarocho de Veracruz, México. Tiene un vasto conocimiento y experiencia en las formas de arte tradicionales de Son Jarocho/Fandango e involucra a las comunidades marginadas en la construcción de proyectos autosuficientes que aprovechan y se basan en el conocimiento cultural, la experiencia encarnada y la memoria.
¿Qué es lo que más te emociona del trabajo de ACTA?

Lo que más me emociona del trabajo de ACTA sin duda es que es una organización sin fines de lucro que apoya el desarrollo de las culturas tradicionales y al mismo tiempo promueve nuevas manifestaciones culturales que emergen en la cambiante y compleja sociedad californiana. En ACTA se encuentra uno con proyectos de muchas partes del mundo y en diversas manifestaciones artísticas como las manuales, musicales, dancísticas, poéticas, etc. que se desarrollan tanto en los espacios públicos de la ciudad como en los centros penitenciarios del estado de California.