At ACTA we believe that social distance doesn't have to mean social isolation. That's why we have introduced a new series of live videos we are calling Shelter Together, bringing you LIVE performances, demonstrations, and words of wisdom from traditional artists across California on our social media channels!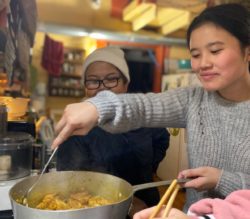 Join us on Instagram and on Facebook every other Friday at 12 pm (unless otherwise noted) to witness how artists are continuing their traditional practices at home. Keep an eye on our Facebook and Instagram pages for the latest news on the Shelter Together series and to see who will be presenting next!
See the full archive for Shelter Together below, or view the Facebook playlist.
Press
June 8: Read about Western Mono basketweaver Carly Tex in the New York Times, including a nod to her Shelter Together livestream on acorn processing (April 8), in an article covering the impact of the Coronavirus pandemic on Native American artists.
Rapheal Begay, a Navajo artist and public information officer, said that it should be up to Native artists, rather than outsiders, to interpret the impact of the coronavirus crisis on the community. "It's about aesthetic and visual  sovereignty," he said. "How will Native artists define this moment?"
One response comes from Carly Tex, a Western Mono basketweaver in Fresno, Calif., who may well be the Julia Child of acorns. She demonstrated her techniques in a recent video for the Alliance for California Traditional Arts, comparing the "old way" of grinding acorns with a mortar and pestle to her Ninja blender and sifting the flour in a tamoya basket she had woven.
Being ready for times of scarcity, be it storing acorns, dried beans, or basket materials, "is innately present in our culture," she said. As food hoarders descended on supermarkets, she realized she had a lot of acorn stored if the household ran out of food. "In a way," she said, "it felt like we were preparing for this all along."
MARCH
---
APRIL
---
MAY