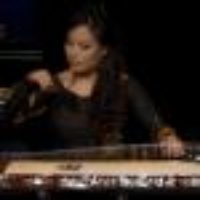 Van-Anh Vanessa Vo
Vietnamese dan tranh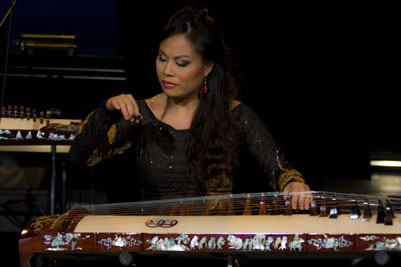 The dan tranh, a plucked zither, is one of Vietnam's earliest instruments.  The dan tranh can be played as a solo instrument, as part of an orchestra, or as an accompaniment to other Vietnamese arts forms such as opera and poetry reading.  Its music accompanies special events such as the Tet Festival (Vietnamese New Year), weddings, and other ceremonial festivals.
Another instrument truly unique to Viet Nam, which people believe had been created by a beggar, is the dan bau. The resonator box is made of wood, while its single string is tensioned by a buffalo horn, with a resonator and to the opposite of the sound box. The player plucks the strikes the string with a plectrum in the right hand, while dynamically adjusting the tension of the string by flexing the buffalo horn with the left hand, thus controlling the pitch. To Vietnamese ears, the sound of the dan bau resembles the voice of a singer, or perhaps a reciter of traditional poetry. To others, it sounds a bit like a theramin. Dan Bau is a leading instrument in Vietnamese traditional ensembles and music genres.
Van-Anh Vanessa Vo began studying dan tranh at the age of four, and graduated with distinction from and taught at the Vietnam Academy of Music.  In 1995, Van-Anh won the championship in the Vietnam National Dan Tranh Competition.  She has since performed in more than fourteen countries, co-composed and recorded an Emmy winning soundtrack for the documentary Bolinao 52, and contributed to the soundtrack for the Academy Award nominated documentary Daughter from Danang.
By the age of six, Vo began studying the dan bau, having studied with some of Viet Nam's finest master such as Professor Khac Chi and Ngoc Bich, both of whom were awarded the highest honor for artsts in Viet Nam.
As a master artist in ACTA's Apprenticeship Program in 2019, Vo worked with apprentice Thu Vu to deepen her practice in the Vietnamese Dan Tranh.
In 2017, Van-Anh Vanessa Vo mentored Christopher Lam to deepen his understanding of the musical nuances and techniques and the cultural aspects that are embedded in this instrument. They focused on the dan bau style that comes from Northern Vietnam.
Van-Anh was a master artist in ACTA's Apprenticeship Program in 2014, with apprentice Audrey Do, working to further develop her cultural and technical understanding of the dan tranh.
As a master artist in ACTA's Apprenticeship Program in 2011, Van-Anh worked with apprentice Lanie Quan.  During the apprenticeship, Lanie studied the techniques necessary to play the regional music of Northern, Central, and Southern Vietnam.
The following video features Vanessa playing the T'rung (bamboo xylophone) during a recording session for Bolinao 52's soundtrack.  Video courtesy of rhimp.com.

Gallery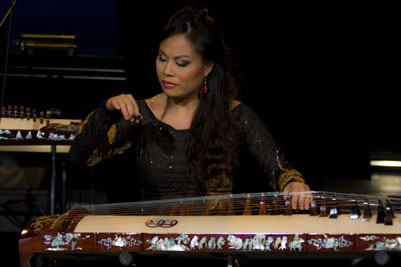 Master Vietnamese dan tranh musician Van-Anh Vanessa Vo. Photo: Khiem Do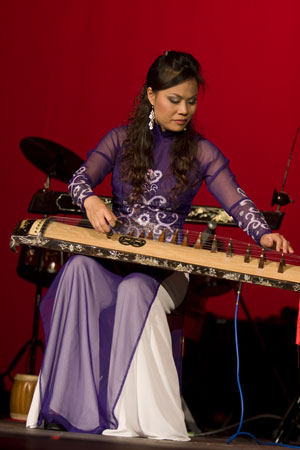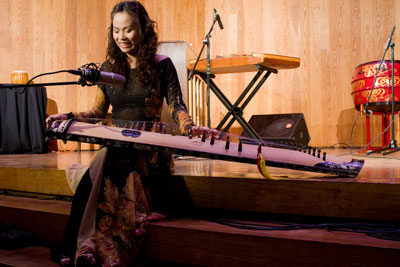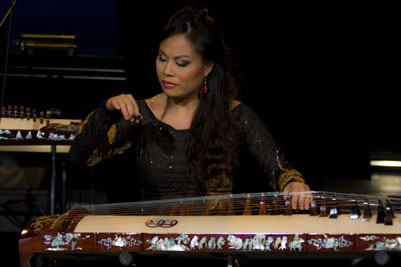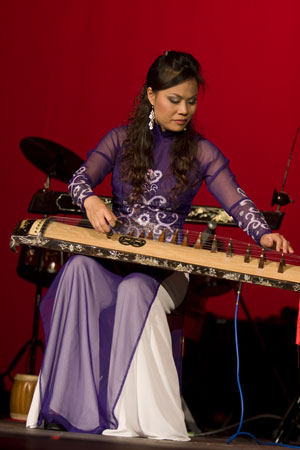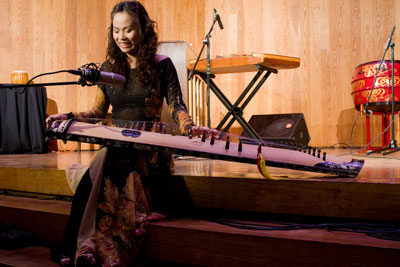 Next slide