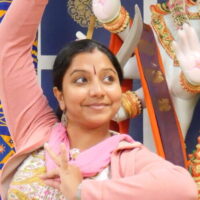 Snigdha Venkataramani
Bharatanatyam
Snigdha Venkataramani, of Fremont, in Alameda County, learned the Bharatanatyam traditional dance form from world renowned guru Dr. Saroja Vaidyanathan, a Padma Bhushan Awardee. Snigdha started learning from the young age of 4, and eventually became a teaching staff at her institution Ganesa Natyalaya, in New Delhi India. Bharatanatyam and music has been a mode of expression in Snigdha's life. Learning and teaching these twin art forms has given her confidence, self-reliance and independence. The traditional practitioners of this art form, the temple dancers, devadasis, had been leading an independent way of life and have been self reliant, bold and unabashed in the patriarchal society. Their way of life inspired Snigdha to pursue this art form and express issues close to her heart.
---
Apprenticeship Program
2019
Bharatanatyam
with apprentice Anagaa Nathan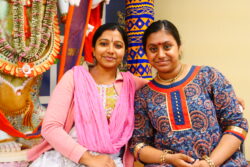 Master artist Snigdha Venkatramani worked with her 2019 apprentice, 15-year-old Anagaa Nathan of Cupertino, in the south Indian classical dance form Bharatanatyam.
Anagaa worked on a series of pieces that focus on female figures from Hindu mythology as well as female figures from contemporary life including Malala Yousafzai and Tarana Burke (who created #metoo) to showcase female power and resilience, and to reframe certain Indian figures as female role models. She engages with the creative potential of abhinaya, or the expressive and gestural part of Bharatanatyam dance, to tell the stories and embody the characters of these different female figures.