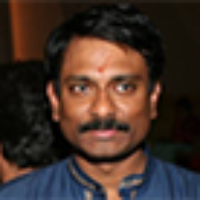 Shriram Brahmanandam
The Mridangam is a two-headed drum that is the primary rhythmic accompaniment in all Carnatic or South Indian Classical music performance. A very ancient instrument referenced in sculptures and epics of India thousands of years ago, Mridangam and the art of playing the instrument have evaloved highly over the centuries. The instrument produces rich, varied sounds that are vocalized with special syllables. The student of the Mridangam is trained 1) to master the various complex Tala, rhythmic structures of Carnatic music, 2) to compose rhythmic calculations spontaneously while accompanying other musicians, 3) to accompany the compositions and improvisational presentations of a central artist (vocalist, violinist) with complete knowledge of the musical material being presented, and 4) to recite Konakkol, the vocalization of the Mridangam syllables. The art form is passed on from the teacher to the student through several years of intense one-to-one lessons and by the apprentice closely shadowing their master teacher.
This is how master artist Shriram Brahmanandam has learned and processed the art of the South Indian percussion instrument, the Mridangam. He belongs to a long lineage (5 generations) of Carnatic musicians that have contributed immensely to the evolution of the field. His great great grandfather Sri Rama Iyer was a direct disciple of the legendary Carnatic music composer Saint Thyagaraja. Raised in Chennai, India he began his training at the age of 5 with Shri Harihara Sharma, the father and guru of the renowned ghatam artist Sri Vikku Vinayakaram. Brahmanandam continue his studies with Sri C.V. Kuppuswami and then began advanced studies from Shri Kumbakonam Rajappa Iyer, a master teacher who has trained a number of highly recognized masters in the field of Carnatic music. By the age of 10 he began shadowing master mridangam musicians in concerts accompanying his mother and sister in several of their violin duet concerts. By the age 15 Brahmanandam was accompanying many stalwarts of Carnatic music including his uncle, violin maestro Lalgudi G. Jayaraman.
As a master artist in ACTA's Apprenticeship Program in 2017, Shriram Brahmanandam will be mentoring the young Anivartin Anand in the Tanjore tradition of Mridangam. The goal for the apprenticeship is to develop the young apprentice's technical ability in accompaniment, improvisational skills, a larger repertoire of compositions and rhythmic cycle, and advanced fingering techniques, rhythmic theory and practice methodologies.