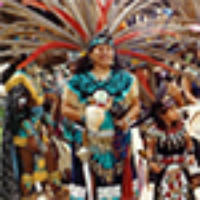 Mary Lou Valencia
Aztec danza and regalia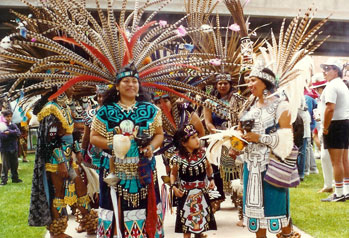 Aztec dance has had a major impact on the Chicano/Mexican-American population of the United States by emphasizing its roots in the indigenous history and culture of Mexico. In San Diego, Aztec dancers have been regular participants in cultural events since the early 1970's. Individuals who dedicate their lives to Danza Azteca embrace a life philosophy, as well as art, music, and dance forms, by developing pride in and respect for families and Mexican cultural traditions.
Mary Lou Valencia, who is of Yoreme and Jicarilla Apache descent, has participated in Azteca dance, drumming and singing since 1971, when she began her studies with Maestro Florenico Yescas. She also studied with Capitán Mario Aguilar, developing her skills and learning to play the concha (mandolin) for use in traditional ceremonial activities. In 1992, as founder of Danza Mixcoatl, she was acknowledged as a Capitana de la Danza and became the first US-born female leader of the traditional discipline in San Diego. A well-rounded Azteca dancer also designs and constructs regalia for dance. Valencia has demonstrated expertise in this important aspect of the tradition. She is a seamstress and has acquired special knowledge of the symbols and motifs appropriate for regalia. She learned from the master Azteca regalia makers, Yescas and Rosita Amaya, in Mexico for over 35 years. Valencia has performed, taught, and conducted workshops on all aspects of Danza Azteca tradition throughout the San Diego area.
Mary Lou has participated in ACTA's Apprenticeship Program in 2001 with apprentice Eva Sandoval and again in 2009 with apprentices Maria Ramos and José Alvarez. Mary Lou instructed her apprentices in the techniques, styles, and intricacies of making regalia for Danza Azteca.
Gallery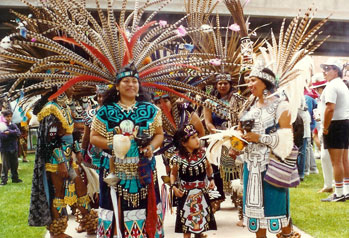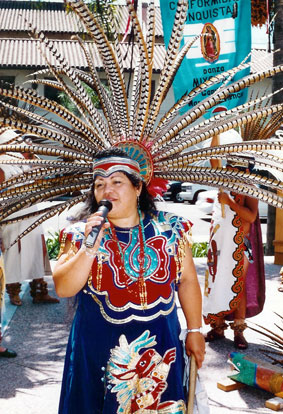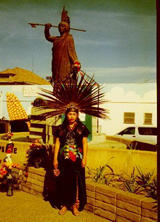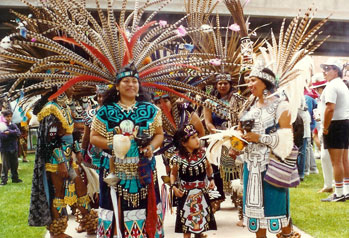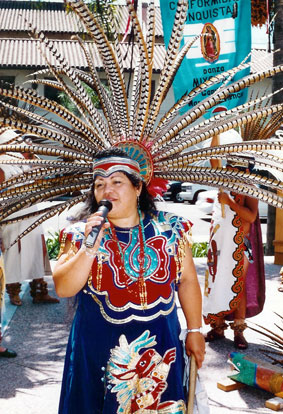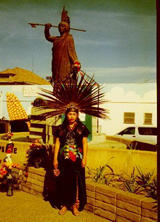 Next slide