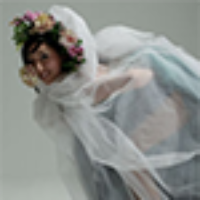 Kyoungil Ong
Seungmu is a highly represented Korean traditional dance form that has roots that go back 500 years. The choreography that demonstrates intense expressions of joy and sorrows includes intricate yet calm movement. This reflects the journey of relieving heavy karma, leaving the secular world, and finally reaching nirvana. Performed as a solo piece, Seungmu maintains connection to a Bhuddist monk ritual dance. The final portion of Seungmu includes the Beopgomu, a drum dance that is another essential Buddhist expression. In 1969, this dance form was designated as an Intangible Cultural Property of South Korea, number 27.
Kyoungil Ong began learning Korean traditional court dances at the age of four from Il-ji Moon, director of the Seoul Metropolitan Dance Theatre and Younghee Kim and Rumi Ha, directors of the National Gugak Center. She progressed through her studies under the guidance of Honglee Lee and Eunja Jeon at Yewon School (an arts middle school), Seoul Arts High School and Sungkyunkwan University learning folk dances and mask dances. After graduating from the university Ong went on to perform with the National Dance Company of Korea as a principle and lead dancer. There she also studied Buddhism and Shamanism dance with Bum Song, Sooho Kook, and Jeonghae Bae. She also learned the Jindo Ssitgim Gut (Jijeon/Paper Money Dance) from its original creator, Byeongchun Park, who has been identified as an Intangible Cultural Asset, number 72, by the Korean government. For Ong the traditional dance forms of Korea are central to her life, she states, "It is as important as rice is to the Korean people…It is not something just to consume, but functions as a means of social and economic wealth and fuel for the soul."
As a master artist in ACTA's Apprenticeship Program in 2017, Kyoungil Ong will be mentoring Ryeon Hwa Yeo through the many artistic aspects of this dance drama, that include nuanced understandings around movement and stillness, choreography, and drumming that demonstrate a unique style of integrated rhythm and movement.