Jayashree Varadarajan
South Indian Carnatic vocals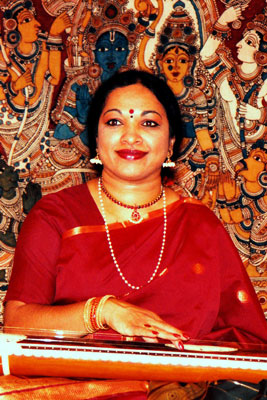 Carnatic music is one of two styles of Indian classical music.  It is an ancient art form, and references to it can be found in the Ramayana and Mahabharata, the principal epics in Hinduism dating back to the prehistoric Vedic period.  Carnatic music is melodic, with improvised variations.  The main emphasis is on vocal music; most compositions are written to be sung, and even when played on instruments, they are meant to be performed in a singing style.  Carnatic music rests on two main elements; raga, the melodic modes, and tala, the rhythmic cycles.  The present form of Carnatic music is based on historical developments that can be traced to the 15th and 16th centuries.  From the ancient Sanskrit works available, the history of this tradition can be traced back about 2,500 years.
Sangeetha Kala Vibooshini, Smt. Jayashree Vardarajan, founder and director of Rama Lalitha Kala Mandir School of Fine Arts, is a dedicated teacher with an extensive background in music and musical education.  She started her initial training in Carnatic vocal music from her mother Smt. Ramamani Iyengar at the age of five, and then came under the expert tutelage of her maternal aunt, Ganasaraswati, Karnataka Kalashri, Smt. G.V. Raganayakamma.
She has been awarded honors such as Sangeetha Vidushi, Sangeetha Kala Saraswati and Sangeetha Kala Vibhooshini. She is the recipient of the Artist's Fellowship Award from the California Arts Council for her excellence in music. In April 2007, she was presented with the Sri Guru Award by India Parent Magazine. In 1996, she was nominated for the Woman of Achievement Award for her contributions to the field of music.
A gifted composer, Jayashree has set music to compositions of Purandara Dasa and has released an audiocassette and a book entitled Purandara Pada Saurabha.  She has set original music to Synanduresvara, a rare and major poetic work by Maharaja Swathi Tiruna and has released an audiocassette entitled Synanduresvara.  She has many compositions in Sanskrit, Kannada, and Tamil to her credit.  Her other audio programs are Bhakthi Saurabha, Excerpts from Live Concert, and Bhajans.  Her most recent audio pogram was for the Shiva Vishnu Temple, located in Livermore, on the occasion of Shiva Keshava Maha Yagya.
She has written two musical plays Gagana Padma and Subhadrarjuna in Kannada.  She has also published books Lessons in Vocal Music in four volumes accompanied by audio programs for the benefit of all students of music in general with Carnatic music in particular.  She has many compositions in Sanskrit, Tamil, and Kannada to her credit.
Jayashree is also a Bharathanatyam dancer and holds a senior degree in Bharathanatyam. In addition, she has senior degrees in veena (1975) and Sanskrit (1968), as well as a diploma in Drama and Theatre (1969).  Jayashree also holds a Master's Degree in Botany from Mysore University and a Master's Degree in Microbiology from the University of Cincinnati, Ohio.  As the founder and director, Smt. Jayashree Varadarajan oversees the teaching and the operation of Sri Rama Lalitha Kala Mandir School of Fine Arts.  Varadarajan is known amongst the music community as an eminent vocalist, composer, and most importantly, a dedicated and knowledgeable teacher – who has become a recognized and sought after Bay Area icon in musicianship and music education.
As a 2019 master artist in ACTA's Apprenticeship Program, Jayashree worked with Kaushik Shivakumar in Carnatic vocal practice. In 2015 Jayashree worked with apprentice Sravya Rallapalli.  Their apprenticeship focused on developing Sravya's technical and creative abilities as a Carnatic vocalist, preparing her for a full-length debut concert.
Jayashree participated in ACTA's Apprenticeship Program in 2010 with apprentice Sruthi Ramaswami.  Through the apprenticeship, Sruthi achieved competence in improvisation and its underpinning theories in the tradition, while learning from Jayashree the melodies, structural compositions, and associated sentiments.  The apprenticeship focused on swara kalpana, raga alapana, neraval, and the basics of tana.
Gallery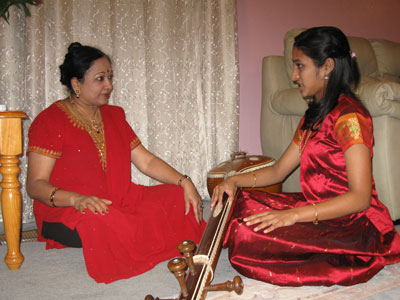 Master Carnatic vocalist Jayashree Varadarajan (left) and her 2010 apprentice Sruthi Ramaswami. Rajiv Ramaswami, 2010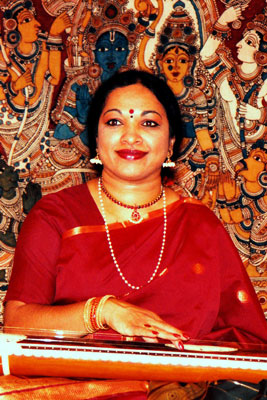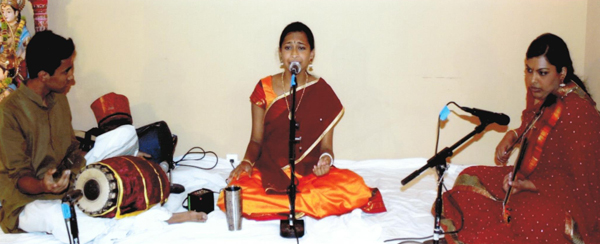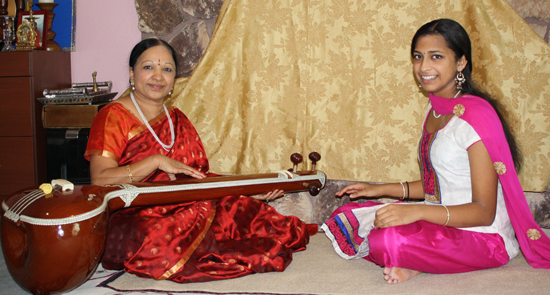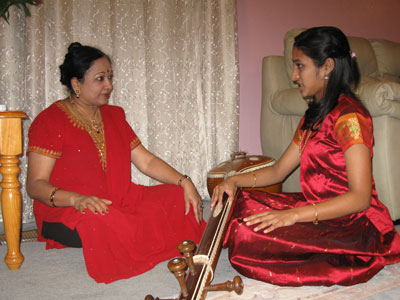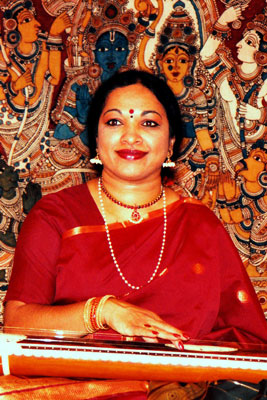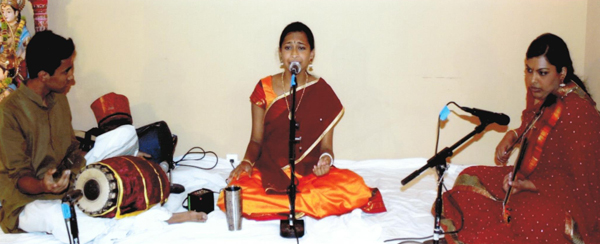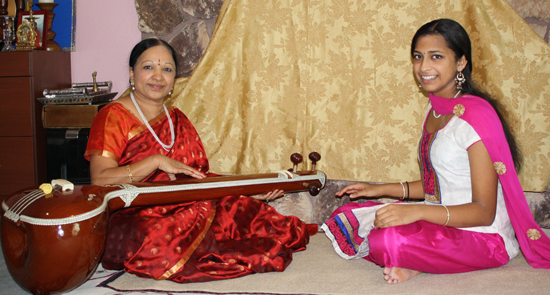 Next slide