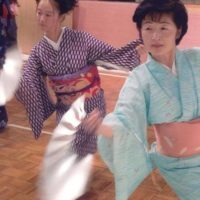 Fujima Kansuma
Master artist Fujima Kansuma and apprentice Melody Takata participated in Round 7 of ACTA's Apprenticeship Program, conducting an apprenticeship in Japanese Nihon Buyo, or Japanese classical dance.
Fujima Kansma is no ordinary figure. Surmounting a series of challenges and discouragements, her long career reflects extraordinary focus and commitment to her art. Born Sumako Hamaguchi in San Francisco in 1918, she aspired to being a kabuki dancer from a very early age. She began her training in the United States when she was nine years old, but moved to Japan after graduating from high school in order to study with Kikugoro Onoe VI, a famous kabuki dancer. As an American and a young woman, she overcame the skepticism of other students and practitioners of what was then an all-male art form. She immersed herself in the study of Japanese culture and arts, studying the etiquette and techniques of kimono dress, tea ceremony, and ikebana, as well as learning to play such Japanese instruments as the shamisen, nagauta, kiyomoto, gidayu, and taiko. In 1938, she received her natori, professional certification, and was given the professional name of Kansuma.
Upon her return to the states, Kansuma established her first studio in her father's Los Angeles hotel. When the U.S. entered World War II, she and her family—along with 110,000 other West Coast Japanese Americans—were forced into War Relocation Authority concentration camps. Sent to Rohwer, Arkansas, the eastern most of these 10 camps, Kansuma remarkably continued her dance career—performing and teaching in several of the other camps. Her Rohwer performance in the role of Tange Sazen, a samurai severely disabled in battle, is legendary among those who were in attendance—providing, as it did, a glimpse of hope, perseverance, and beauty during a discouraging time.
When the war ended, Fujima Kansuma returned to Los Angeles and reopened her studio. Over the years, she has taught several generations of students not just a repertoire of dances, but an entire complex of skills and sensitivities, including the etiquette of Japanese traditional arts, the use of stage makeup, and the wearing of kimonos. She also developed a professional troupe, the Fujima Kansuma Kai.