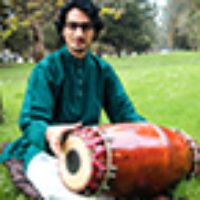 Dr. Rohan Krishnamurthy
Mridangam, South Indian percussion
The mridangam, a South Indian classical or Carnatic percussion is one of the world's oldest, most complex and versatile drums. A pitched hand drum with both rhythmic and melodic qualities that dates back to over 2000 years. The mridangam is utilized in Carnatic music ensembles providing rhythmic cycles and structure for singers and instrumentalists, as well functions as a solo instrument.
Dr. Rohan Krishnamurthy is a second generation Indian-American, who grew up in Kalamazoo, Michigan and began studying the mridangam with Damodaran Srinivasan in Michigan in 1995 at the age of eight. Mr Srinivasan was a well-trained mridangam artist who studied in Chennai, India with maestro Vikku Vinayakaram. In 1997, Krishnmurthy continued his advanced training with Chennai based master Guruvayur Dorai, receiving annual face to face lesson in both Chennai and in Michigan. Since he was nine years old he began performing on the mridangam, which has ultimately led to an unprecedented career marked by hundreds of traditional Carnatic performances around the globe with leading Indian classical musicians.
Krishnamurthy has completed his doctorate in musicology at the Eastman School of Music in New York and is currently a professional percussionist, professor, educator, and entrepreneur based in San Francisco. His artistic mission and vision is to preserve and promote the incredible percussion tradition of India, globalize the traditions through innovative cross-genre and interdisciplinary collaborations, and promote intercultural understanding through music and creativity.
2019 Apprenticeship: Swapan Chaudhuri + Rohan Krishnamurthy
Krishnamurthy also participated in the 2019 Apprenticeship Program as an apprentice in north Indian tabla under master artist Swapan Chaudhuri.
2017 Apprenticeship: Rohan Krishnamurthy + Shreyassriram Garimella
As a master artist in ACTA's Apprenticeship Program in 2017, Dr. Rohan Krishnamurthy will be mentoring a young Shreyassriram Garimella with the purpose to develop the apprentice's rhythmic skills in both solo and accompaniment performance settings to prepare him for professional-level concerts.