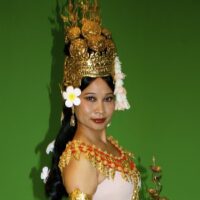 Charya Cheam Burt
Cambodian Classical Dance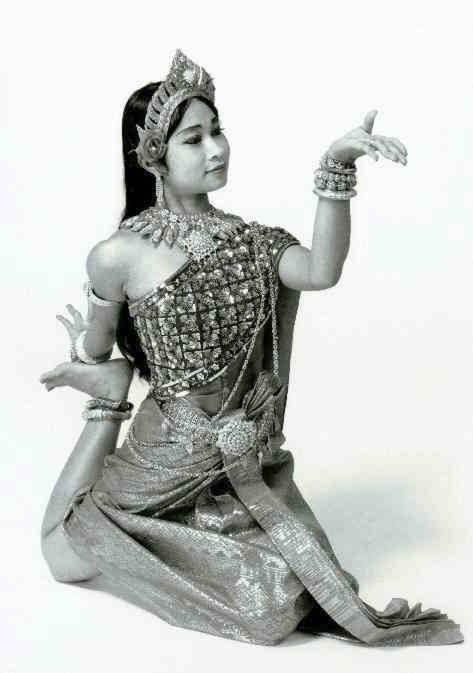 Charya Cheam Burt of Windsor began her training in classical Cambodian dance in 1982, at the School of Dance at the University of Fine Arts in Phnom Penh, Cambodia.  She learned this traditional art form under the direction of the foremost dance masters of Cambodia, all survivors of the Pol Pot Regime.  In 1990, she received a teaching certificate and became a faculty member in the same institution.  An accomplished dancer, Charya was among the dozen dancers chosen to accompany the Cambodian Prince on his first overseas mission following the royalty's return from exile in 1991.  As one of a small number of Cambodian dancers to have studied under the dance master Soth Som Onn, Charya has Khmer classical dance lineage by direct training.  Since moving to the United States in 1993, Burt has worked as a teacher and performer in Santa Rosa and the Bay Area, striving to keep Cambodian tradition alive.  She also presents lecture-demonstrations for a variety of audiences, revealing a strong commitment to and love of her art and her Cambodian traditions.
Classical Cambodian music and dance ensembles founded in America bring to life the story of Khmer civilization of Southeast Asia.  Classical Cambodian dance, also known as the Royal Court Dance, is one of Cambodian culture's most precious art forms.  A highly stylized performance of mythology, in ancient times the dance served as communication between the kings and his gods.  In modern times, dances were performed at the court for foreign dignitaries and other privileged visitors.  Royal Court Dance almost disappeared during the rule of Pol Pot from 1975-1979, when up to 90 percent of the Khmer dancers perished.  Survivors and their students have set as their lifelong work the recording and preservation of that complex and intricate art, which includes 4,500 basic movements.
---
Apprenticeship Program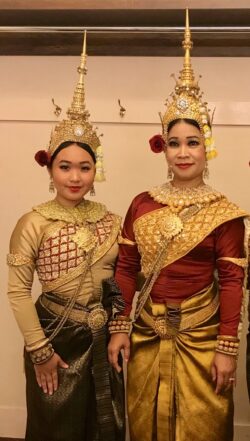 2021
Cambodian Classical Dance
with apprentice Victoria Ung
Charya Burt mentors Victoria Ung in four dance pieces: two from the classical repertory (Preah Thung and Tepmonorom) and two from Charya's own choreography (Heavenly Garden and Of Spirits Intertwined). Victoria will study the female role (princess, goddess, etc.), one of the four roles that exist in the Khmer Classical dance repertory. Charya will guide Victoria in developing her skill focusing on important techniques, movements and gestures through warm-ups, basic exercises, and intensive training in basic movements, hand gestures, and footwork. Charya will also prepare Victoria for an upcoming program/production for the Southeast Asian Exhibition at the Cleveland Museum of Art in November 2021. The overall focus will be on developing specific skills in order to master the essential flow of movements and gestures for the female role all rooted in the classical repertory.
2017
As a master artist in ACTA's Apprenticeship Program in 2017, Charya Burt mentored her apprentice Ryan Rithea Boun in Classical Cambodian dance. Focusing on two pieces Boun furthered his skills portraying the male and "giant" characters found in these dance dramas.
2011
Charya was a master artist in ACTA's Apprenticeship Program in 2011, with apprentice Reaksmey Lath.
2007
Charya was a master artist in ACTA's Apprenticeship Program in 2007 with apprentice Prumsodun Ok.
2001
In 2001, Charya was a master artist in ACTA's Apprenticeship Program with apprentice Sameun Hin.  Their apprenticeship focused on providing individual instruction to Sam so that she could learn the detailed transitions in the movements and feel a connection within the dance, allowing her to flow with grace and rhythm.
---
Traditional Arts Development Program
2010
In 2010, with support from ACTA's Traditional Arts Development Program, Charya travelled to Philadelphia, Pennsylvania, to attend workshops and observe rehearsals and performances of Akaeng Khameaso (The Lives of Giants), a production of the Khmer Arts Academy.
2010
In 2007, with support from ACTA's Traditional Arts Development Program, master musician Ho Chhim Chan conducted three five hour workshops with Charya; Alexis Alric, composer; and Andrew Yinn, xylophone musician.  The new work developed by the artists, Pha Kolab Keiv (Blue Roses), premiered at the 29th Annual San Francisco Ethnic Dance Festival in June 2007.
---
Select Performances
A Gathering of Gamelans, ShawdowLight, Cowell Theater, San Francisco, California, October 2005
27th Annual San Francisco Ethnic Dance Festival (8th appearance), Palace of Fine Arts, San Francisco, California, June 2005
Forever My Ancestors, Santa Rosa Cambodian Community Cultural Center, Santa Rosa, California, April 2005
Dance Presentation, Immigrant and Refugee Artists in the San Francisco Bay Area, San Francisco, California, April 2005
Accomplishments
Dance USA's Dance: Creation to Performance Grant, To create and produce a solo classical dance piece, Forever My Ancestors, 2004-2005
The Fund for Folk Culture's California Traditional Arts Advancement Program, To conduct a series of dance workshops, Santa Rosa Cambodian Community Cultural Center, 2002-005
California Arts Council's Multicultural Impact Grant, To conduct series of dance workshops, Santa Rosa Cambodian Community Cultural Center, 2004
California DanceMaker Grant, To create The Magic Peacocks, 2002-2003
Isadora Duncan Award for Outstanding Achievement in Individual Performance, 2000-2001
Alliance for California Traditional Arts' Apprenticeship Program Master Artist, 2000-2001
Recent Teaching Experiences
Santa Rosa Cambodian Community Cultural Center, 13 students, Santa Rosa, California, 2002-2005
Carpenter Performing Arts Center's Classroom Connection in six public schools sites in Long Beach, California, March 2005
Asian Pacific Islander Youth Promoting Advocacy and Leadership Dance Exchange workshop series, 15 students, Oakland, California, October 2004-January 2005
Santa Rosa Elise Allen High School, 60 students, Santa Rosa, California, November 2004
Professional Services
Mentorships
Demonstrations
Lectures
Educational presentations to schools or community organizations
Exhibitions
Performances
Plans arts events
Cultural consultancies
Gallery
Master Cambodian classical dancer Charya Burt (left) and her apprentice Reaksmey Lath. Photo: Rob Burt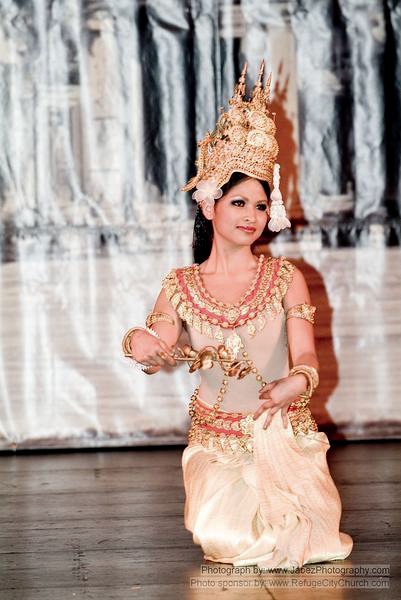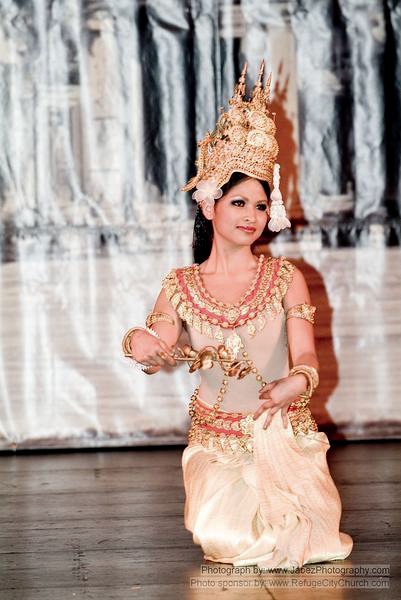 Next slide