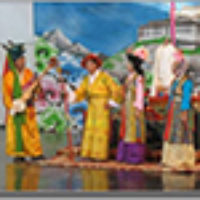 Chaksam-pa Tibetan Dance & Opera Company
Tibetan drama, music, and dance
Since the Chinese occupation of Tibet, the rich traditions of Tibetan music, dance, and drama have been suppressed.  But the art survives, barely, in refugee settlements in India, and now, in the San Francisco Bay Area.  In the Chaksam-pa Tibetan Dance & Opera Company, a small group of master performers have joined together to offer this unique art to a world audience in hopes of keeping it alive for another generation.
In Tibetan, Chaksam-pa means Bridge-Builder, and is one of the many names attributed to a famous Tibetan saint known as Thangtong Gyalpo, who lived in the 14th century in Tibet. He is considered to be a patron saint of Tibetan medicine as well as the founding father of Ache Lhamo, Tibetan opera.  Legend has it that Thangtong Gyalpo recruited villagers and gathered support to build suspension bridges all over the wide Himalayan rivers in Tibet to allow pilgrims access sacred Buddhist sites.  The bridges now built by Chaksam-pa Tibetan Dance and Opera Company are those of cultural exchange, sharing the unique but threatened traditions of Tibet with audiences and artists around the world.
In 2016, a grant from ACTA's Living Cultures Grants Program supported a recording project that will bring master artists together to document and archive Gorshey, a traditional Tibetan circle dance. A 2019 Living Cultures Grant will support a collaboration with Kongpo elders to transcribe and publish traditional songs.
In 2012, with support from ACTA's Living Cultures Grants Program, a full length ache lhamo or Tibetan opera will be produced in July to coincide with a three-day gathering of Tibetan families from the West Coast in honor of the  birthday of the Dalai Lama.  Performers, under the artistic direction of Tsering Wangmo, will include alumni of the renowned performing arts conservatory, The Tibetan Institute of Performing Arts in Dharamsala India and are considered some of the finest artists in their generation, now living throughout the Tibetan diaspora.
In 2011, funds from ACTA's Living Cultures Grants Program supported the presentation of the first-ever U. S. production of a traditional Tibetan opera known as ache lamo.  Culture bearer and lead artist Tsering Wangmo writes, "In Tibet, this day-long event would be performed outdoors under a tent and is attended by families in traditional dress who share picnics of favorite foods.  People wander in and out of the tent to watch the most beloved parts of the opera which tell tales of religion, morality, good, and evil."  The production brought artists who live in North America to the Bay Area in October 2011 to present ache lamo, now rare in Tibet.  The growing Tibetan community is now three generations strong, but young people have not had the opportunity to see this rare tradition.
As a grantee of ACTA's Living Cultures Grants Program in 2009, Chaksam-pa Tibetan Dance & Opera Company received support for their 20th anniversary celebration performance.
Gallery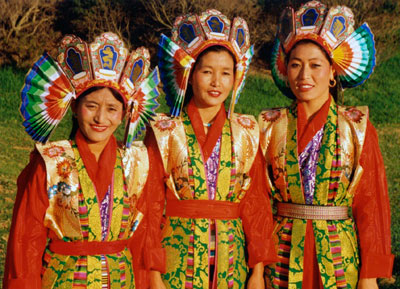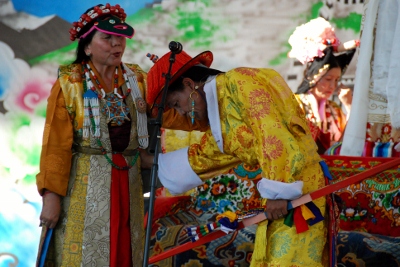 Receiving blessings, another character embarks on a journey to restore peace to the kingdom because of the havoc wreaked by the disappearance of the wife. Photo: ACTA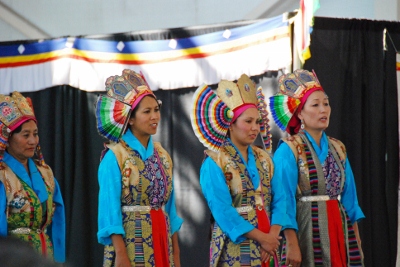 The female chorus play multiple roles in the story, representing the King's 500 wives as well as celestial water snakes. All actors are trained to dance, sing, and recite poetry. Tsering Wangmo, artistic director of Chaksam-pa, stands on the far right. Photo: ACTA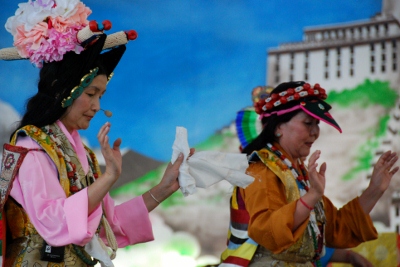 A close up of actors Tsering Dolma and Chime Youdon. All the artists were trained in Dharsalam, India, at the Tibetan Institute of Performing Arts, founded by the Dalai Lama. Photo: ACTA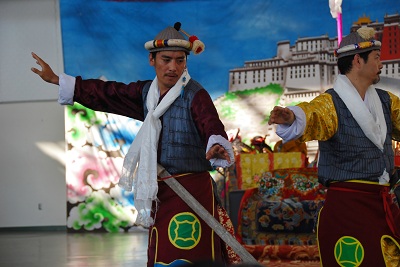 Battling good and evil is a mainstay of the allegory. King Norsang must must endure many hardships before he can prove he is worthy to regain his celestial queen once again. Photo: ACTA
The King encountering the creature. Photo: ACTA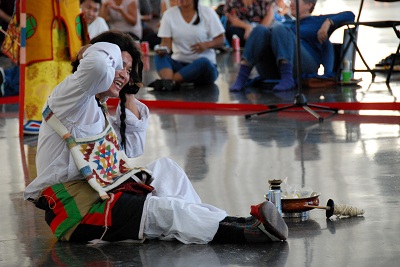 More comedic interludes. Photo: ACTA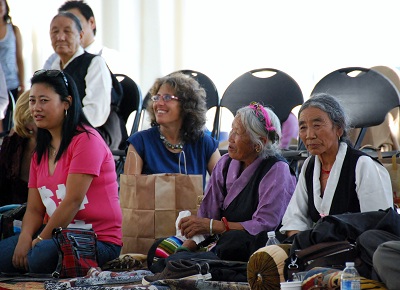 There are approximately 1,500 Tibetans in the Bay Area. The close knit community has provided leadership in the cultural life of the exile community at large by establishing the only North American company dedicated to Tibetan dance and opera. Photo: ACTA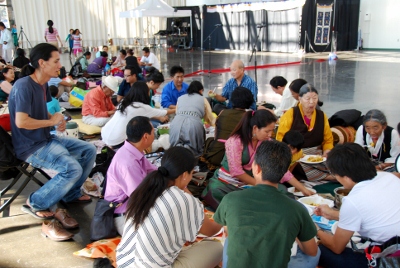 Three generations of Tibetans, Tibetan-Americans, and the general community shared the day-long event. Photo: ACTA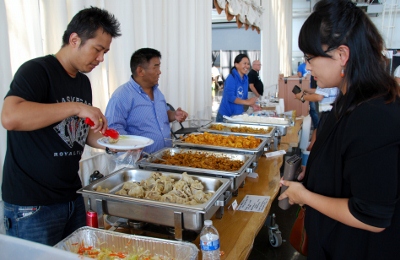 Traditional Tibetan foods were available for purchase. Photo: ACTA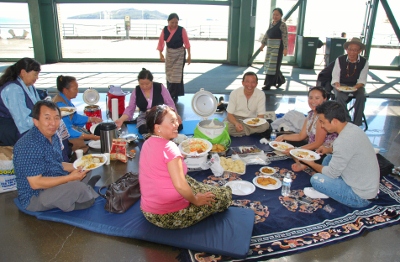 During a day-long Ache Lhamo, or Tibetan opera, a typical scene is picnics of traditional Tibetan cuisine, shared together as families during intermissions. This production, the first of its kind in the United States, was supported in part by ACTA's Living Cultures Grants Program. Photo: ACTA, 2011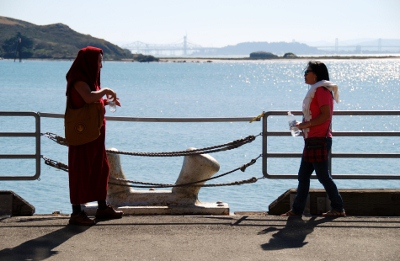 The epic was a tale that also reflected on the health of the water system and a village's dependency on its clear lakes for survival. Here a glorious view of the San Francisco Bay from the Craneway Pavillion in Richmond is a vivid reminder of the timely potency of the tale and why the opera is such an enduring form over centuries. Photo: ACTA
The first full-length Lhamo, or Tibetan opera, mounted in the United States by the artist collective known as Chaksam-pa was held in Richmond, California, on October 16, 2011. Trained artists who now live in the U.S. and Canada came together to mount this production. Photo courtesy of Chaksam-pa Tibetan Dance & Opera Company.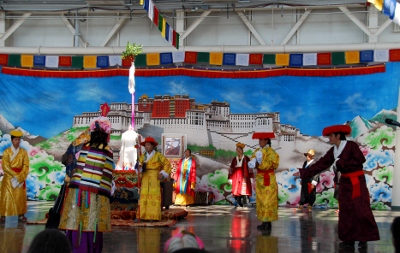 A view of the wide space and backdrop which references the Tibetan mountains and monasteries of old. Photo: ACTA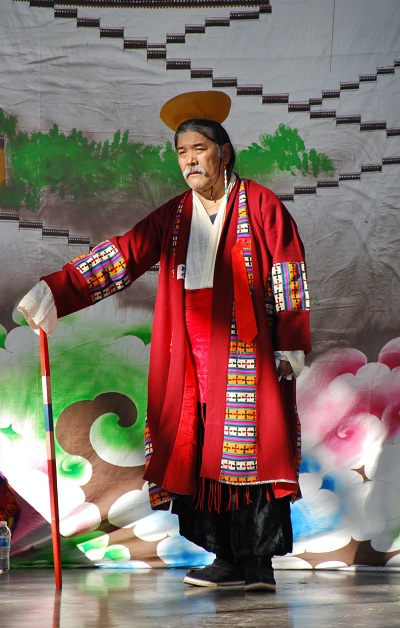 Characters are known to the spectators by their costumes: colors may indicate status or personal traits. Actor Sonam Tashi stands in repose. Photo: ACTA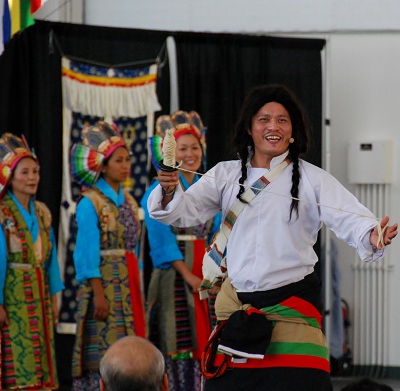 A comic character played by actor Tenzin Ngawang stumbles, drinks, and cajoles the audience with recitation and physical comedy. Photo: ACTA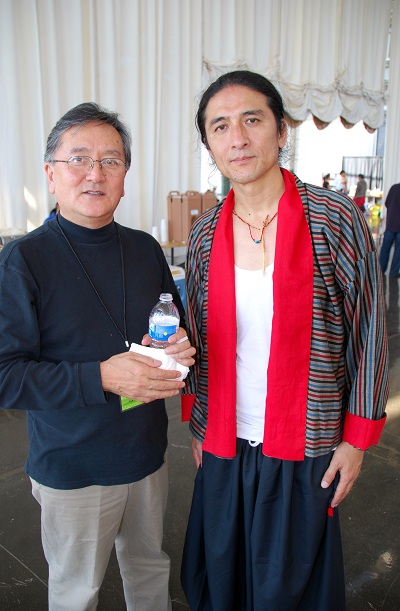 Techung (right), one of the founders of Chaksam-pa, is a highly regarded performer who played the King. Here during intermission he poses with Tenzin Tethong, former Tibetan cabinet minister. Photo: ACTA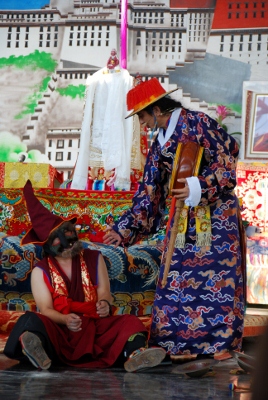 The mythic tale and allegory charts the travels of King Norsang in search of his abducted wife who is hiding in a heavenly home. Along the way, he encounters creatures, holy men, and comic characters. Photo: ACTA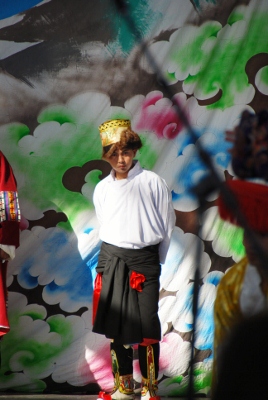 A young performer on stage. The next generation of performers train largely outside of the United States. Photo: ACTA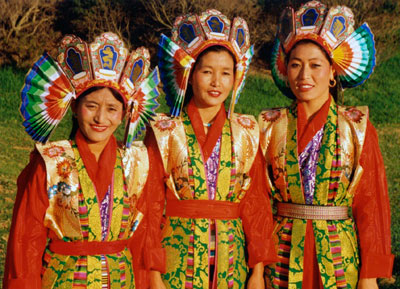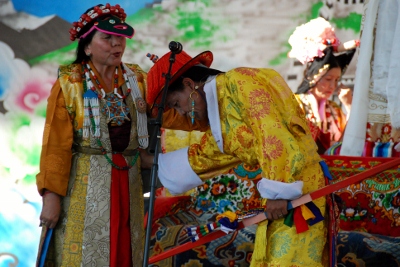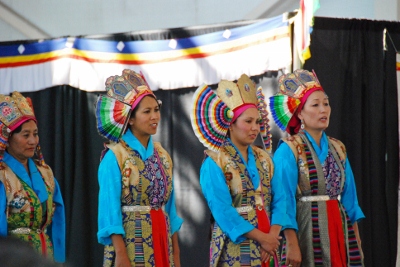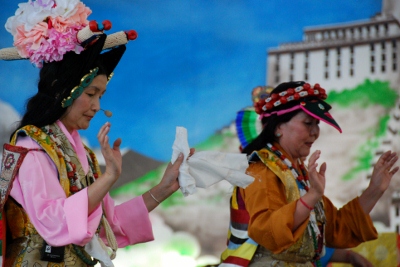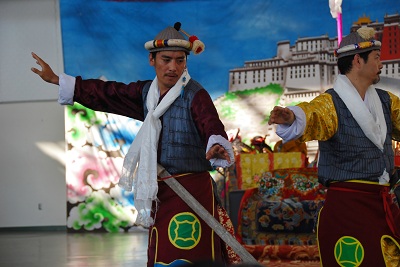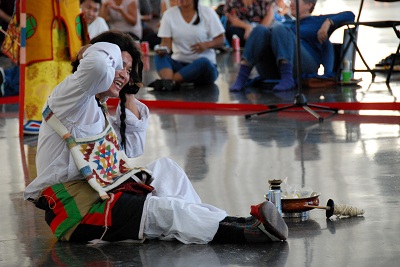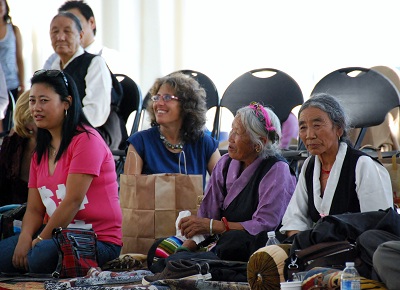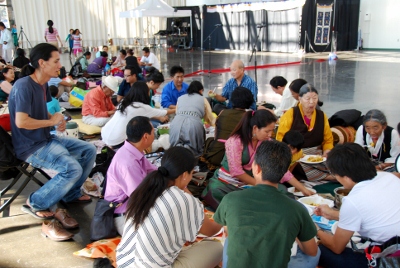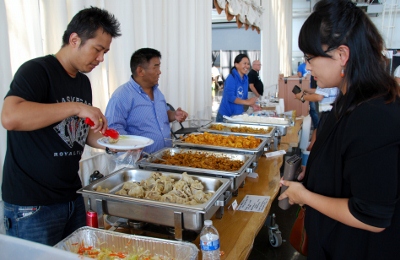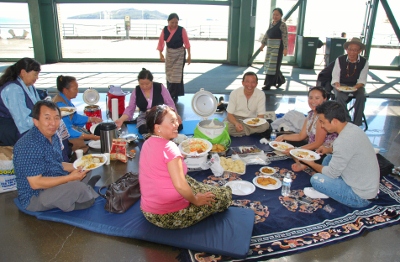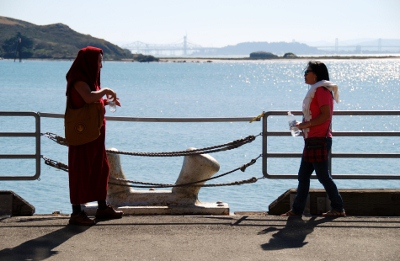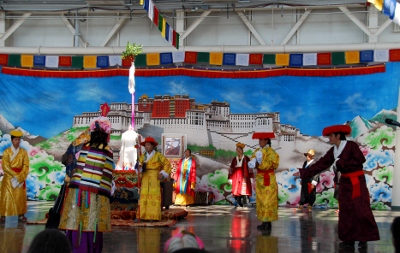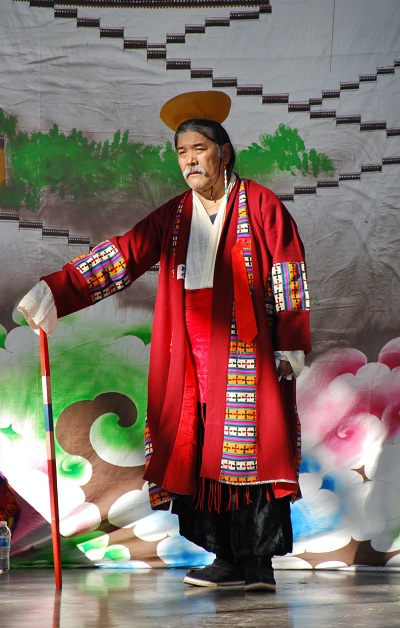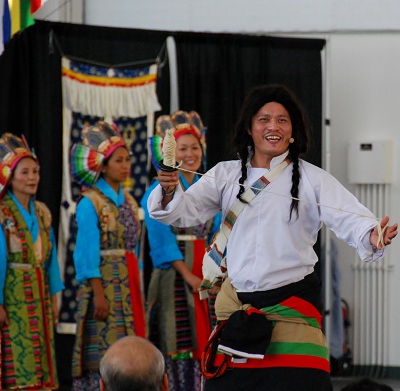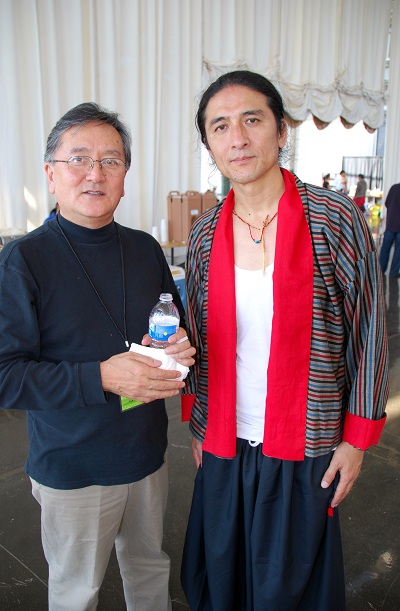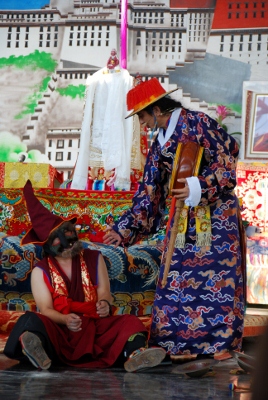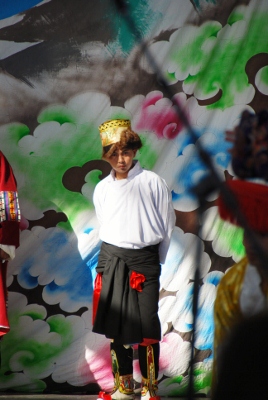 Next slide