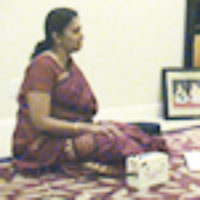 Anuradha Sridhar
South Indian Classical Carnatic music is one of the oldest systems of music in the world. The violin found position in the Carnatic form within the last 300 years. The Lalgudi system of playing the violin is very advanced and is popular for its ability to mimic vocal music. Largely credited with the style and technique developed by Lalgudi G. Jayaraman the Lalgudi system has been known for its lyrical excellence.
Anuradha Sridhar comes from a long line of master artists that have contributed immensely to the field of Carnatic music. She actively started learning in Chennai, South India, at the age of five with her mother, Lalgudi Srimathi Brahmanandam, the reputed sister and violin duo partner of violin virtuoso Lalgudi G. Jararaman, who is considered as developing the Lalgudi style. Her grandfather Lalgudi Gopala Iyer, was an innovative teacher and a versatile musician, who played many instruments. Iyer introduced many techniques for master Carnatic music, which are followed by many musicians in the industry today. Sridhar's great-grandfather Valadi Radhakrishnier was responsible for introducing the violin into the family line. Her great-great-grandfather Lalgudi Ramaiyer, was a popular vocalist and a direct disciple of the legendary Saint Thyagaraja himself. By the age of 12 Sridhar performed her debut concert receiving an outstanding reception from the audience. Coming from five generations of outstanding practitioners and contributors to Carnatic music, the tradition is bigger than life to Sridhar. It is a passion, an obsessive pursuit for excellence, a companion, a spiritual guide, a way of life, and the best means of communicating the traditional culture and values of India.
As a master artist in ACTA's Apprenticeship Program in 2017, Anuradha Sridhar will mentor Apurvaa Anand to develop her skills to become an advanced player of the Lalguldi style. They will focus on learning a large repertoire of traditional compositions (Keertanams) and building upon higher levels of comprehension, ear training, and improvisational skills.
Anuradha Sridhar also served as a master musician in ACTA's Apprenticeship Program in 2007 with apprentice, Sruti Sarathy.