Balls of Thread ~ DIWA Rehearsal: My very first lesson that took place at Porling's house, where our all women ensemble of kulintang and gangsa performing artists learn & practice their music & dance. We gather at each others' homes to rehearse, but also to share a meal and catch up with each others' lives.
All the DIWA members had a chance to wind the red sting too, so my first project has the spirit (DIWA) of the DIWA members ~ cool ~ the DIWA of the DIWA ~ …ANYWAYS, I had homework once I left rehearsal, but I am so glad my friends had a hand in Laga (weaving) with me.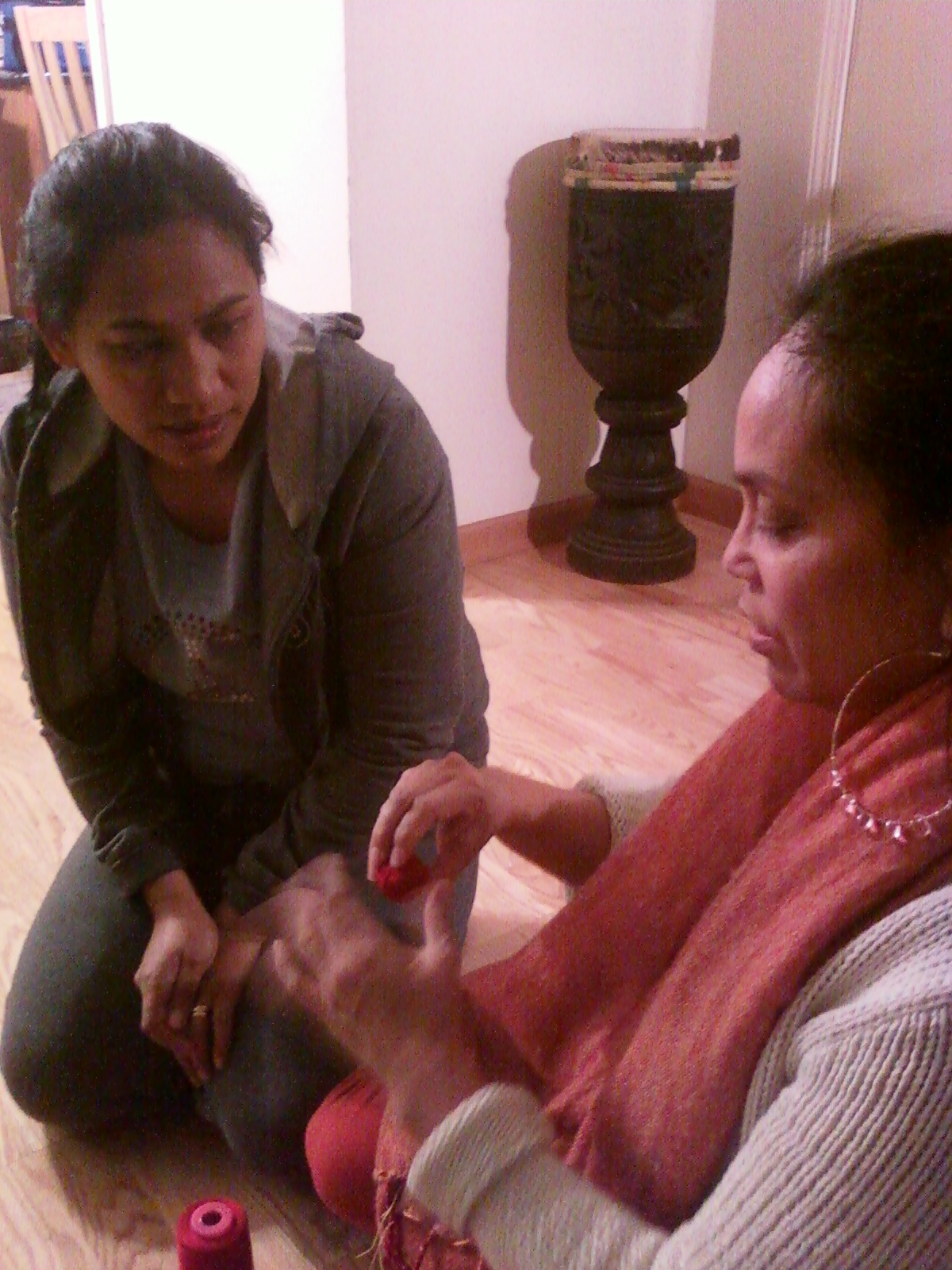 My turn making a ball… …photo courtesy, Mylene Cahambing
What seemed to take me a long time was making round balls of red string. I would sit in front of my tv & wind away day after day & sometimes in my bedroom. I had to remember to put my hair in a ponytail or bun, otherwise if I wasn't paying attention strings of hair might get caught up in the ball of string. Part of our project was to find materials here, but in our rounds to different crafts & big box stores (well, with Globalization that's pretty much what's become of shopping as the smaller stores are almost non-existent), we couldn't find the large quantity that Jenny is used to getting in the Philippines. She eventually found something online & we decided to experiment with it. I would call Jenny, as she volunteered to make balls of the other colors, always used along with red for traditional Kalinga Laga belts:white, black and yellow. Making a belt is the first project given to children by the elder weavers. Jenny learned from her maternal grandmother, Mambot Cusay, and her aunt, Alice Dumatog, in Mabilong, Lubuagan. It was her grandmother that instructed her at the age of ten to complete her first belt…for me, it's been many decades since I was ten, but with the excitement of a child, I was eagerly awaiting my chance to make a belt. I hadn't expected making the balls of string to be tiresome for me, yet I found out that I was excellent at dropping the ball and chasing it under my bed!