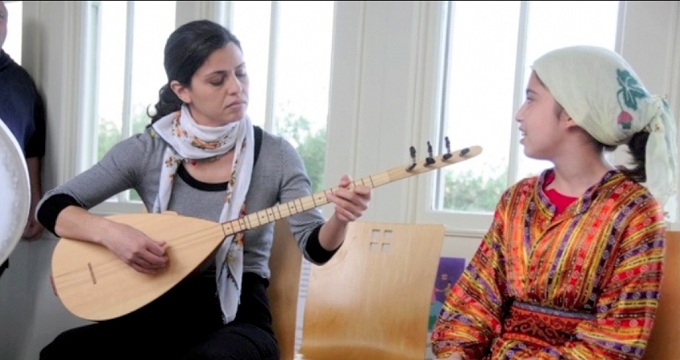 ACTA's Apprenticeship Program encourages the continuation of the state's living cultural heritage by contracting exemplary master artists to offer intensive training to qualified apprentices. Each contract will support a period of concentrated mentorship between six to twelve months for individuals who demonstrate commitment to and talent for a specific artistic tradition. Contracts of $3,000 are made with California-based master artists to cover master artist's fees, supplies and travel. Participants work closely with ACTA staff to develop and document the apprenticeships, culminating in opportunities to publicly share results of the apprenticeship.
The 2012 Apprenticeship Program cohort of 34 artists reflects California's breadth of cultural diversity and intergenerational learning, ranging from septuagenarian master artists to 15-year old apprentices, spanning from Sonoma to San Bernardino Counties. Thriving traditions supported through these apprenticeships reflect indigenous California cultural practices that include Mono tumpline weaving; distinctly American art forms such as African-American Gospel and Spiritual singing; and cultural traditions which have taken root in the United States hailing from regions such as Laos, Tibet, Bulgaria, Turkey, Mexico, Haiti, India, and the Philippines.
ACTA's Apprenticeship Program is supported by the James Irvine Foundation, the Walter & Elise Haas Fund, and the National Endowment for the Arts. Additional support provided by the California Arts Council, the California Community Foundation, the San Francisco Foundation, and the Surdna Foundation.
The 17 statewide artist teams participating in the 2012 Apprenticeship Program are: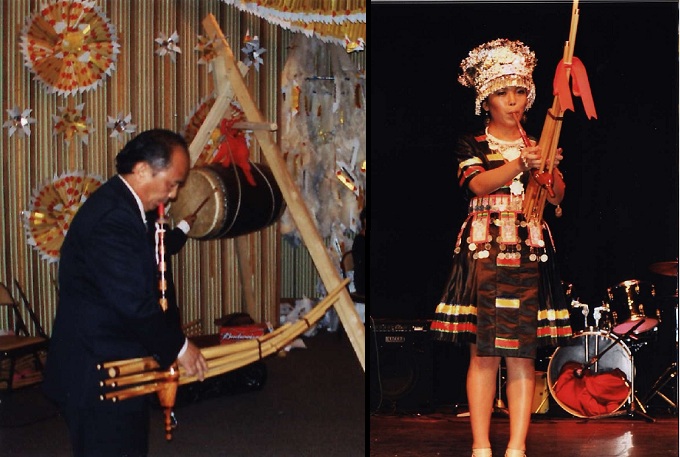 Wang L. Xiong (Riverside) will conduct an apprenticeship with his daughter Gorlia Xiong (Riverside) in Hmong qeej. W. Xiong was introduced to the qeej (pronounced "kheng"), a free-reed multiple pipe bamboo instrument, in his youth in Laos, yet developed his skills on the instrument later in life when he apprenticed with his uncle Vatoua Xiong and later with Vang Yee Chue. Now a master musician, W. Xiong also attained talents as an instrument maker of the qeej. Gorlia Xiong began her training on the qeej at the age of five with her father. She has already demonstrated much dedication and talent in Hmong culture and dance, which she has been working as an instructor and choreographer since 2007. Understanding the basics of the instrument, the apprenticeship will focus on various aspects of repertoire that pertain to the funeral ceremony.
Master artist Tzvetanka Varimezova (Los Angeles) will conduct an apprenticeship with Elizabeth Setzer (Berkeley) in Bulgarian folk singing and folk choir directing. Varimezova began studying and performing Bulgarian folk music at the age of nine and was highly encouraged to continue this path. She attended the Kotel High School for Folk Music, and then received degrees in choral conducting and folk instrument pedagogy from the Bulgarian Academy of Music and Dance in Plovdiv. In the process she mentored with legendary folk singer Nadka Karajdova, and later was a soloist and choral director for various professional choirs including the Bulgarian National Ensemble of Folk Song and Dance. Setzer began her studies of Bulgarian singing taking workshops with the Oakland-based ensemble Kitka, a women's vocal ensemble, which she is now the musical director. She was a recipient of a Fulbright grant in which she used to study at the Academy of Music in Plovdiv, Bulgaria, where she studied with master Svetla Stanilova. The apprenticeship will focus on understanding the different roles as director, singer, and conductor while studying the traditional polyphonic songs, arrangements, and compositions for Bulgarian folk choir.
Master artist Rumen "Sali" Shopov (Berkeley) will conduct an apprenticeship with Benji Bloom Rifati (Graton) in Balkan Romani instrument music, improvisation, and band leading. Multi-instrumentalist Shopov is a community trained musician who as a child was mentored by his uncle Mustafa Kobalishtaliev for drumming skills and his cousin Avdraman Teshovski, who guided his training on melodic instruments such as the guitar, tambura, and bouzouki. By the time he was eighteen, Shopov attained position as the concertmaster of the Nevrokopski Ensemble Orchestra, with which he toured and recorded. Bloom Rifati grew up in a context of Romani culture and politics being exposed to cultural events that his parents organized and where his father performed as a musician. He has taken workshops Romani trumpet with Michael Ginsburg and is currently a student of Shopov. The goal for this apprenticeship is to continue developing improvisational skills, focusing on scales and ornamentation, as well as understanding the nuance of leading an ensemble.
Lakshmi Shankar (Simi Valley) will conduct an apprenticeship with Dayita Datta (Los Angeles) in thumri, kajri (Hindustani classical music), and bhajan (devotional song). Having initiated her training with her mother at the age of three, Shankar continued on to study with notable masters Ustad Abdul Rehman Khan and Pandit Ravi Shankar, eventually earning herself a position with Ravi Shankar's ensemble. Shankar has since become a household name in Hindustani classical music. Datta began her studies at the age of ten in India with masters Dwijen Gupta and later with Purabi Basu Roy. For the past three years, Datta has been studying with Shankar, demonstrating much promise to becoming a solo Hindustani concert vocalist. During the apprenticeship this pair will continue to build repertoire for Datta while focusing attention on technical aspects of singing.ith which he toured and recorded. Bloom Rifati grew up in a context of Romani culture and politics, being exposed to cultural events that his parents organized and where his father performed as a musician. He has taken workshops Romani trumpet with Michael Ginsburg and is currently a student of Shopov. The goal for this apprenticeship is to continue developing improvisational skills, focusing on scales and ornamentation, as well as understanding the nuance of leading an ensemble.
Master artist and priestess of Vodou religion, Florencia Pierre (San Francisco) will conduct an apprenticeship with her daughter Djenane Saint Juste (San Francisco) in Haitian dance, music and song. Ordained as a priestess in 1984, Pierre took on the responsibility to provide spiritual and cultural guidance to her family and community, having learned this role from her mother who also was ordained a Mambo of Haitian Vodou religion. She has also developed a career as a professional dancer, director, and choreographer, who studied at the Vivianne Gauthier School of Traditional Arts, served as the lead dancer for the National Dance Theater Company of Haiti, and worked as the founding director of the JAKA Institute of Dance in Pétion-ville, Haiti. Saint Juste continues this maternal line of spirituality and expressive culture having grown up in a context of performance and practice. While in Haiti she became the assistant director and lead dancer for the JAKA performing ensemble. In learning the vast repertoire of Haitian song and dance, the apprenticeship will also focus on the practice of storytelling from the Lagonave region of Haiti.
Master artist Özden Öztoprak (San Francisco) will conduct an apprenticeship with her daughter Berfin Ozsoy (San Francisco) in Kurdish Alevi folk music. Öztoprak began studying the saz (a seven string long-necked lute) with her father at the age of seven; by the age eleven she was performing for many social and official gatherings. She eventually went on to study the saz and voice at the Conservatory of Istanbul Teknik University. Ozsoy grew up listening to her mother play and sing, and was a previous apprentice to her mother in the Apprenticeship Program in 2008. This year's focus will be to continue building repertoire and, more importantly, attend to the stylistic nuance of singing and playing at the same time.
Master artist Nirmal Narayan (Cerritos) will conduct an apprenticeship with Chinmai Raman (Fremont) in mridangam, the percussion instrument for Carnatic music. At the age of ten, Narayan began studying mridangam with master composer and percussionist Poovalu Srinivasan. He embraced a mentorship with leading figure of this style Umayalpuram K. Sivaraman during his high school and college years. Raman began his studies in India at the age of eight with local master Ramesh, completing a junior level competency within his first course session. Upon returning to California, he continued his studies with Thiravarur Bhaktavatsalam and in 2010 entered into an apprenticeship with Narayan. The goal for this apprenticeship is first, continue to learn the vast vocabulary of phrases and calculation models to attain a freer ability in performance; second, attaining a nuanced understanding of what technically and aurally fits while providing accompaniment at the same time attending to what is tasteful contributions to the music.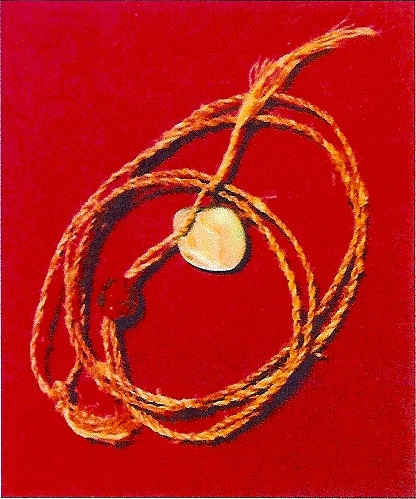 Mandy Marine (Fresno) will conduct an apprenticeship with her sister Carly Tex (Fresno) in Mono tumpline weaving. Marine began to learn about yarn weaving from her maternal grandmother Juanita Anderson Dick as early as four years old. In addition to developing techniques in weaving, she learned at a young age how to make yarn from milkweed from her mother and grandfather, ultimately understanding the various processes in producing finger woven crafts. An apprentice to her paternal grandmother, Avis Punkin, in the Apprenticeship Program in 2003, Tex learned how to make a coiled basket and all the processes of collecting, cleaning, prepping, and weaving materials that go along with this tradition. She hopes to extend her perspective to understand the distinctions and similarities between these weaving practices that pertain to her cultural heritage.
Master artist Terrance Kelly (Oakland) will conduct an apprenticeship with Marcellus Kidd (Vallejo) in Gospel and Spiritual singing and choir direction. Kelly was introduced to the gospel and spiritual tradition at an early age from his parents, pianist and choir director Faye Kelly, and the well-known jazz pianist Ed Kelly. Kelly's experience, though vast, is grounded in the Allen Temple Baptist Church where his mother directed the gospel choir, and where he performed his first solos, and eventually became choir director. Similarly, Kidd's mother taught him his first songs and encouraged him to sing, leading him to an experience of singing in a choir by the age of eleven and directing the youth choir at his church and the Sanctuary choir by the age of eighteen. The apprenticeship is to instill in Kidd a firm understanding of the greater cultural and historical foundation of gospel music and spirituals so he can approach the role of director with cultural authority, achieve high artistic standards, and be an effective advocate to preserve this form.
Master artist Guadalupe Herrera (Madera) will conduct an apprenticeship with her daughter Onelva Herrera (Madera) in preparing Oaxacan mole. G. Herrera acquired her skills through an apprenticeship with a local molera (mole cook) in Concepción Putla de Guerrero, Oaxaca, doing remedial tasks that the cook did not want to do. The introduction of buying and preparing specific ingredients began G. Herrera's career as a molera, which developed much more through trial and error rather through guidance. Nevertheless, through determination, G. Herrera has attained a reputation in Madera as the local molera. Unlike G. Herrera's experience, her daughter Onelva has received direction and mentorship in learning the processes of finding, cleaning and preparing ingredients to make this Oaxacan delicacy. The apprenticeship will focus on developing Onelva's understanding of cooking time, especially when cooking for a large community rather than a home meal, distinguishing tastes of ingredients, and recognizing the best ingredients for purchase.
Master artist Juana Gomez (Madera) will conduct an apprenticeship with her daughter Johanna Gomez (Madera) in Mixteco herbal curative practices. Juana Gomez began her apprenticeship as a child assisting her maternal great-grandmother Sotera Velazco, a Mixtec healer, with menial tasks. Her official training began at the age fifteen, which involved intensive studying such as classifying different plants through vision and smell and understanding the various functions the plants offered. As a child Johanna Gomez gathered herbs for her grandmother, which her grandmother then described the agency of each plant. Today, she assists her mother Juana with her patients, cutting herbs and assisting with massage therapy. Johanna's goal is to attain the full knowledge that her mother sustains in her practice.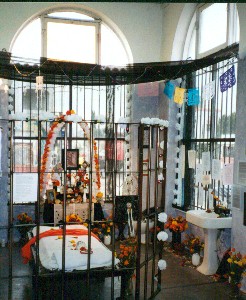 Ofelia Esparza (Los Angeles) will conduct an apprenticeship with her daughter Rosanna Esparza Ahrens (Los Angeles) in Mexican altar building. Ofelia Esparza received the knowledge of altar building through the generations of her maternal lineage. At eight years old Esparza began by learning to cut paper flowers for adornment, as a teenager she was assisting her mother install public altars at the local church, by 1979 she began creating alter installments at the well-known East Los Angeles art center Self-Help Graphics for their Day of the Dead celebration. Rosanna Esparza Ahrens was highly influenced in this tradition by her maternal grandmother after living with her for various years. She, along with her siblings, has been assisting her mother since her early teens and later began to help with design and concept. Ahrens eventually became a graphic designer and print maker developing a name for herself in the Chicana/o art world of Los Angeles. The apprenticeship is focused specifically to design and create a Tree of Life Alter that will be installed at Self-Help Graphic's Día de los Muertos exhibition in November 2012.
Master musician Juan Diaz II (Campbell) will conduct an apprenticeship with Estafania Hernandez (San Pablo) in mariachi music and vihuela technique. Diaz grew up with his parents, violinist Barbara Perez de Diaz, and director of Bay Area ensemble Mariachi Azteca, Juan F. Diaz, in a household of music and musicians. Diaz began learning the vihuela (a five-string rhythm guitar with a convex back) by studying videotapes and watching his father, a master of the instrument. He eventually went on to study trumpet, taking workshops with masters such as Miguel Martínez, Gustavo Alvarado, and José L. Hernández, becoming one of the highly sought out musicians for performance and recordings in the Bay Area. Hernandez has been playing since the age of eleven in Richmond, CA, within the youth program led by the mariachi Los Cachorros, working with master musicians such as Abigail Torres and Demetrio González. The apprenticeship will center on developing overall understanding and technical skills on the vihuela, focusing on reading and ear training methods.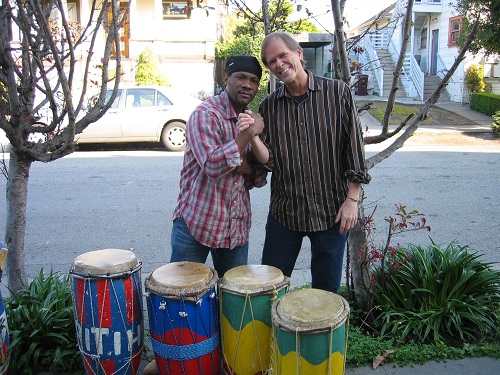 Daniel Brevil (Oakland) will conduct an apprenticeship with Kendrick Freeman (Sonoma) in Haitian drumming. Brevil began drumming at the age of eight with his father, Joseph Brevil, who was his major source of knowledge and inspiration. Working with his father, a houngan (vodou priest), he was introduced to vodou ceremonies, songs and rhythms. He later attended the Ecole Nationale des Artes to enhance his musical studies. Freeman began drumming learning Ghanaian styles with Kwaku Dadey. He was later introduced to Haitian styles studying with drummers such as John Scovel, and later Bonga Jean-Baptist and Jean Raymond Giglio. This apprenticeship with Brevil is to develop Freeman's talent as a lead drummer and a master teacher.
Master artist Bhalu Bhaloo (El Cerrito) will conduct an apprenticeship with her niece Yang Chen (El Cerrito) in Kongpo, Tibetan song and dance. As an 8-year-old, Bhaloo watched the elders of her community, in Tibet, sing and dance. After many years of paying attention and practicing, she eventually became a master. She was a lead singer in her exile community in India, and was part of a generation that unfortunately is almost completely gone. Chen studied Tibetan dance with her cousin Tsering Wangmo (daughter of Bhaloo), but because of marital and familial responsibilities did not continue her studies to the extent desired. Now with Bhaloo residing in California, Chen feels a wonderful opportunity has presented itself to continue her studies. The main goal of the apprenticeship is to preserve the songs and dances that are at risk of being lost.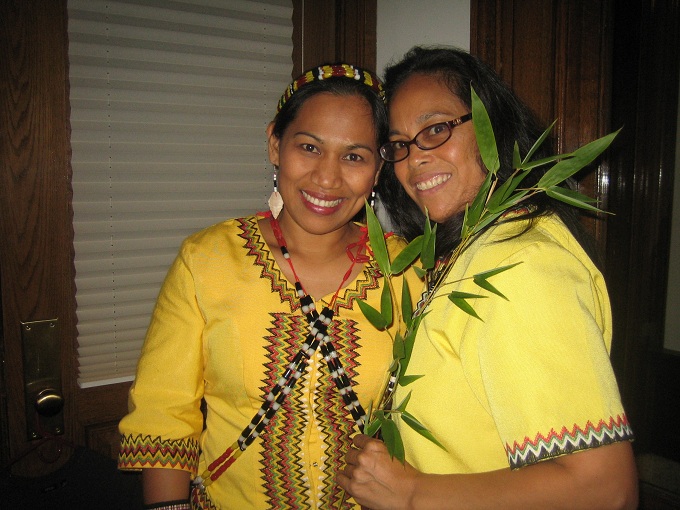 Jenny Bawer Young (Castro Valley) will conduct an apprenticeship with Holly Calica (San Francisco) in laga, backstrap loom Kalinga weaving. Growing up in Mabilong, Lubuagen, with her maternal grandmother Mambot Cusay, and aunt, Alice Dumatog, Bawer Young learned to weave, creating her first belt at the age of ten. Learning to weave was integral part of Kalingan culture, however, Bawer Young feels an urgency to pass on this tradition that continues to fade with time. Calica's connection to backstrap weaving extends more from her studies of Filipino dance, western visual arts, California Indian basketmaking, and of indigenous people of the Philippines. Nevertheless, she recognizes the urgency and the opportunity to learn from Bawer Young. The goals of the apprenticeship is to build a backstrap loom with local materials, teach the apprentice how set up, string, and weave with this tool, and begin to document this process to share with other communities.
Master artist Flavio Alvarez (Los Angeles) will conduct an apprenticeship with Taija Rae Garcia (Los Angeles) in Wanaragua, Garifuna dance. Growing up in the Garifuna village Labuga (known as Livingston, Guatemala), Alvarez watched and learned Wanaragua from his elders. He was not taught, but was encouraged and affirmed by the older dancers to participate and develop his skills and style for this tradition. Encouraged by his grandmother, whose husband danced Wanaragua, Taija Rae Garcia began visiting the group that Alvarez had organized in Los Angeles. Since 2009, Garcia has participated in the Christmas day and New Year's performances of Wanaragua, feeling a spiritual connection to his grandfather. The main goal for the apprenticeship is to provide the apprentice with a foundation of knowledge of the dance tradition, history and language, and encourage Garcia to develop his own style within the practice.