Ultimate Doundounba Festival
Film Festival, Community Forum, and Classes!
University of California, Riverside Department of Dance, WE 3 PRODUCTIONS, and "We The People" Cultural Dance Center
Presents the third annual
Inland Empire's Ultimate Doundounba Festival 2020 Online!
Free to the Public!
6/21 – 7/25 10:30am – 3pm
Join host Makeda Kumasi for a six week Saturday Zoom Class series
as we engage in strength, wellness and community support that is the Doundounba.
Saturday Class Schedule:
10:30 am Wellness and conditioning w/ Lori Hayes
12:00 pm Lunch Hour
1:00 pm Intro and Warm up w/ Makeda Kumasi
1:30 pm (remaining) Class Calendar-
     7/18 Malik Sow (Doundoun)
     7/25 Kosi Williams (Dance)
Showcasing Performances include:
SHINE Muwasi, Bre Dance Studio, Tropicaleiza Dance and Drum Ensemble,
Unity Dance Ensemble, Loyola STAR Drum and Dance, Umoja Ensemble of the Inland Empire
2020 Top Participant Competition:
Festival participants are invited to email their 30-45 second Doundounba solo video link to clydean.parker@ucr.edu by 7/17/2020.
The video will be scored by our Panel of Elders who will help determine this year's Top Participant. Points will also be accumulated according to the competitors' participation in each Saturday class during the festival series. Participation points will be added to the Elder's scores. All attendees and competitors will receive a certificate of participation. Top Participant will also receive a prize package valued over $500, including a Mande instrument and a scholarship to study drum or dance with a master.
Elder Panel: Nzingha Camara, Janiece Blunt, JahAmen Mobley, Malik Sow
Other Participants include: Elder Bara M'Boup, Will Gordon, Colette Eloi
Contact: email: dance@ucr.edu / celoi001@ucr.edu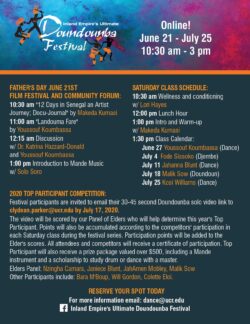 Event Information
Contact Information
Inland Empire